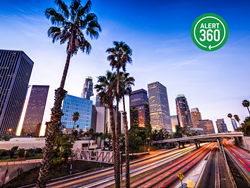 Our local security team is excited to provide top-rated security systems to homes and businesses throughout Southern California from our new office in Corona said Richard Ginsburg President and CEO of Alert 360
CORONA, Calif. (PRWEB) March 08, 2021
Alert 360, one of the leading providers of home security systems and home automation in the nation, has opened a new branch in Corona, Calif. Alert 360 is the fourth largest monitored home security system company in the United States. From this new location, Alert 360 will serve Southern California, including Santa Barbara, Ventura, Los Angeles, Orange, San Bernardino, Riverside, San Diego and Imperial counties.
The local Corona Alert 360 security team can design and install a range of security systems from a basic home security system to the most comprehensive business security package. Alert 360 home security and business security systems include wireless video security cameras, 24/7 alarm monitoring, mobile app access, the new Alert 360 Smart Video Doorbell 2.0, smart home and business automation solutions, and more.
"Tech-savvy Californians always have shown tremendous interest in the latest wireless security and automation technology. Our local security team is excited to provide top-rated security systems to homes and businesses throughout Southern California from our new office in Corona" said Richard Ginsburg, Alert 360 President and CEO . "For home and business owners who are considering installing a monitored security system or automation solutions, we provide free security evaluations. We also offer more than 45 years of experience in installing security systems, along with an A+ BBB rating."
Alert 360's complete line of home security, business security, energy management, and home automation services include interactive security, a free mobile app, wireless home security cameras, remote access, smart thermostats, water detection sensors, smart doorbell cameras, and monitored heat and carbon monoxide detectors. Alert 360 also provides professional installation or integration of smart home devices, such as sprinkler systems, sound systems, Amazon Echo, Google Home and more.
Alert 360's smart security systems allow home and business owners to observe and manage their security systems, using a free mobile app. In addition to the above security system options, Alert 360 offers HD video surveillance cameras, keyless entry door locks, Geo-Fence garage door controllers, and smart lighting. Alert 360 also offers the ability to control these security and smart home devices through Google Home or Alexa from a smart phone, laptop, or tablet, providing total wireless access to your security system.
Alert 360 has been recognized for its top-rated security systems for homes and businesses and its award-winning team. The company, which also has offices in Fresno, Anaheim, and Sacramento, has earned Five Diamond Monitoring Center designation from The Monitoring Association for excellence in alarm monitoring for security systems. Alert 360 also has been recognized for five consecutive years as a "Best Places to Work."
For a free home security or business security system consultation in or around Southern California, contact the local Alert 360 security professionals at 951-460-1056 or at Alert360.com. For information about the company's Corona security office and service area, learn more https://www.alert360.com/locations/corona-home-security/.
About Alert 360
Founded in 1973, Alert 360 is one of the nation's oldest-licensed alarm monitoring providers. Today, the company is the fourth largest provider of monitored home security and home automation solutions to homes in the United States. Alert 360 operates a monitoring and customer service center in Tulsa, Okla., and has offices coast to coast, serving customers in 26 states. The company has achieved Five Diamond alarm monitoring designation. It also has been named an Inc. 5000 "Fastest-Growing Privately Held Company in America" and a "Best Places to Work" for five consecutive years.