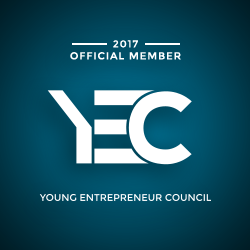 This recognition solidifies the work we've done in the healthcare industry and the traction of the Compassionate Care Movement, led by Carepostcard and Wambi.
Los Angeles, California (PRWEB) October 10, 2017
Alex Coren, CEO of Carepostcard and Co-founder of healthcare technology company Wambi, has been accepted into the Young Entrepreneur Council (YEC), an invitation-only community for the world's most successful entrepreneurs 40 and younger.
Coren joins other hand-selected YEC members, including the founders of high-growth companies like 2U, Threadless, Rent the Runway, ContextMedia, Red Mango and HootSuite, to become part of a curated network of successful peers and get access to a variety of exclusive benefits and resources, including personal brand building and publishing opportunities on top business outlets, curated networking and peer-to-peer support, volume discounts on business services, and invitation-only events and VIP experiences.
Members of YEC, called "one of America's most successful communities for business professionals" by Entrepreneur, get access to the people, benefits and resources they need to continue growing their businesses – and a dedicated member concierge who acts as an extension of their own team, providing personalized one-on-one support. In addition to concierge-level support and exclusive benefits, they become part of a carefully curated network of North America's most successful young business owners.
"To be accepted into YEC means more connections to smart, driven, likeminded people who can help propel our business forward," says Coren. "This recognition solidifies the work we've done in the healthcare industry and the traction of the Compassionate Care Movement, led by Carepostcard and Wambi."
Scott Gerber, founder of YEC, says, "We are honored to welcome Alex to YEC. Our philosophy is that by curating the very best entrepreneurial minds in the country and proactively connecting them to each other, we can build a powerful community of influencers and superconnectors who help each other achieve their next business milestones even faster."
For more information about YEC, visit yec.co.
Like us on Facebook
Follow us on Instagram
Follow us on LinkedIn
About Wambi
Founded in 2016 and based in Los Angeles, CA, Wambi, LLC is on a mission to bring compassion to the forefront of human experience. Wambi delivers a patient-driven healthcare employee performance platform aimed at recognizing and empowering compassionate care. Wambi uniquely addresses patient satisfaction where it starts, with the care providers, through the eyes of patients and their families. It offers a gamified digital platform informed by real-time patient feedback, which arms individual care providers with their own data as a means to promote autonomy and inspire behavioral change. Wambi serves to improve care provider engagement (especially millennials!), decrease turnover and burnout, and elevate the patient experience. View a short video here of a day in the life of a nurse using Wambi.
About Carepostcard
Wambi launched Carepostcard, its affiliate organization, on National Compassion Day on July 6, 2017. Carepostcard.com is an innovative and free digital platform that offers a public way to express gratitude for outstanding care providers and for prospective patients to search for compassionate providers in their area. It integrates with Wambi, delivering organizations with a seamless way to collect valuable positive reviews and improve online presence and reputation. View our video here.