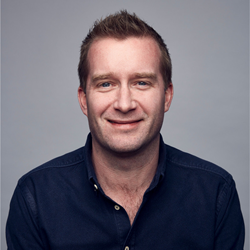 LOS ANGELES (PRWEB) October 12, 2021
Alex Underwood has joined Vurbl, the groundbreaking audio content company, as the Chief Revenue Officer, it was announced today by Audra Gold, Co-Founder and CEO.
"We are thrilled to welcome Alex to the team," Gold said. "He brings years of audio industry experience and ad agency relationships to Vurbl. He'll be leading the charge in building and growing our revenue foundation as we continue on our path to become the largest and most diverse audio streaming platform in the world."
Alex will be responsible in developing Vurbl's monetization strategy. This will include building and overseeing Vurbl's advertising business, and the development of their strategy and content partnerships function. The ultimate goal is for Vurbl to continue to build partnerships that grow and benefit Vurbl's listener and creator communities.
"I am thrilled to join Audra and her team on their mission to build a mutually beneficial ecosystem for listeners, creators and brands, Underwood said. "We are definitely still in the formative years as it relates to the creative power of audio as a brand communication tool, and Vurbl is well positioned to help shape its future."
Underwood has strong strategic and interpersonal skills along with proven experience in building businesses in addition to developing and leading high-performance teams at Google and Spotify. At Spotify he built and scaled the Global Strategic Partnerships team, orchestrating and executing Spotify's first Global Agency and Global Brand Partnerships.
About Vurbl
Vurbl is a creator-first, free streaming audio platform for all audio types, including user generated audio, across hundreds of categories. Vurbl is revolutionizing the way people distribute and listen to audio-centric information across the web. Just like YouTube, Vurbl allows content creators to upload, earn subscribers and monetize their work. Audra Gold founded Vurbl in 2020 with the idea of a different and unique streaming site solely for audio creators. Vurbl's website can be found at https://vurbl.com/. Follow Vurbl on Twitter, Instagram and Facebook.