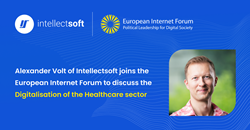 MIAMI (PRWEB) November 01, 2021
Leading technology experts gathered at the European Internet Forum to talk about the disruptions and opportunities they face across industries. Additionally, the event was an attempt to understand the future of the Internet and its influence on the EU's society.
The Solutions Advisor at Intellectsoft, Alexander Volt, spoke on the digitalisation of the healthcare industry in the EU. In his presentation, Alexander shared the following insights:
1. Data at the forefront of the digital transformation in healthcare, EU leading
Health 4.0 makes healthcare more personalised, bespoke, and precision-driven. The rise in data-driven digital health initiatives goes beyond streamlining services and operations but also impacts digitisation. The industry allows for a distributed market for data, where patient records and history can be instantly accessible by the medical institutions within and across the EU while maintaining full compliance with confidentiality and data protection rules, essentially making the EU a leader in data-driven healthcare.
Furthermore, large data sets can be algorithmically analysed to allow real-time assessments and predict health trends while taking patient demographics into account. This can be a significant driver for health care policies, helping care providers address the bottlenecks based on the historical and forecasted dynamics.
2. Large amounts of data as a critical pillar of innovation: Taiwan study
A Taiwanese study analysed database health records of nearly 800 million patient visits to identify previously unmarked cancer disease associations across genders and ages through early detection of cancer comorbidities. When interlinked data is available for analysis, predictive algorithms become more accurate and effective.
Open NCP is an excellent example of a recent initiative that connects the national health system across multiple European countries. However, despite high technology access and computer literacy levels across European nations, many clinics and hospitals still haven't fully implemented these digital technologies into their environments. Facilitating this change would require strong leadership at the EU level and clear guidelines detailing this transformational journey.
3. Technology prevents mental health and burnout issues among healthcare workers
Many doctors and clinical staff across Europe teeter on the brink of exhaustion, especially in clinics that work with underprivileged demographics. The teams spend a bulk of their time collecting patients' history, tracking records, and updating EHR and their internal CRM systems, significantly limiting the effective use of time and the quality of the provided services.
That's why automating administrative activities has become one of the main priorities of healthcare facilities. It ensures that less time is wasted on filling forms while enabling patient-centric service design, and the maximum time is allocated to the actual care.
4. Security and anonymity as major concerns when sharing sensitive data
Security and anonymity are valid concerns, especially when it comes to storing sensitive patient information.
The General Data Protection Regulation emphasizes the importance of informed consent from the patient to share the information, which can be a significant bottleneck in a large-scale rollout of digitisation initiatives.
The right way to address and solve this is through high EU level leadership to address and solve this issue. The need is to educate stakeholders, help them understand compliance procedures, and provide a clear framework for implementing these initiatives. Ultimately, these digital initiatives across the EU's healthcare system will provide rich and accurate data trends for policy design, medical research and play a role in improving patient wellness.
About Intellectsoft
Founded in 2007, Intellectsoft is a digital transformation consultancy and engineering company that delivers cutting-edge solutions for global organizations. For more than 14 years, Intellectsoft has been helping Fortune 500 companies and established brands in building solid software foundations for their businesses. Intellectsoft delivered innovative software solutions to companies like Guinness, EY, Land Rover, Jaguar and Disney. The company was named one of the most highly-rated software development B2B companies in 2021 by Clutch, and ranked No. 244 on Inc. Magazine's list of the fastest-growing private companies in the New York City Metro Region.