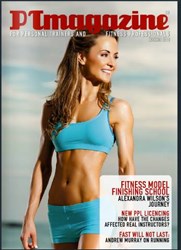 The fitness modelling industry has been in desperate need of exactly this kind of training without even knowing it!
(PRWEB UK) 20 November 2013
The feature focuses on Alexandra's journey to setting up the Fitness Model Finishing School – founded on her desire to constantly find new ways of doing things, and to improve her work to help her clients look, feel and be their best. As the article points out, "in a super-competitive world often it's little more than the desire for fresh ideas that sets you apart, that separates the superstars from the wannabes."
It continues, "But the harder Alexandra looked and the more courses she took, the more she realised that none of them offered what she really wanted. Whilst each approached fitness, modelling and fashion as discrete disciplines, the fitness, modelling and fashion dots were never truly joined. Where was the incentive to transform? Where was the celebration? Where was the reward for a successful transformation? What about designer swimwear, sportswear and lingerie, or make-up, or deportment? What about the inside modelling secrets, the posing tips and camera techniques?"
So, as the article describes, Alexandra did what any savvy professional would do – she built the course herself. She brought together the best stylists and make-up artists, videographers and photographers, and designer clothing companies - serious names like Myla, Better Bodies, Biondi Couture, Andrea Talha, Amy-Rose MacDonald and Matt Marsh. For a final flourish, she added a little extra in the form of networking, media contacts, real-world industry skills, amazing portfolio shots and cool videos – all wrapped up in a life-enhancing, confidence-building experience.
Alexandra says, "I wasn't intending to start running my own school. But when I couldn't find the tuition I wanted for myself I saw an opportunity. The fitness modelling industry has been in desperate need of exactly this kind of training without even knowing it!"
Alexandra adds, "The kinds of skills I'll be sharing are a great way for any Personal Trainer to add some serious value to their portfolios and especially their business."
The first Fitness Model Finishing School at Milliners Loft in Shoreditch, London ran in late October and two more weekends are in the pipeline for February and March 2014, at the same location.
To read the full article and subscribe to the magazine, visit http://www.ptmagazine.co.uk/. To find out more and apply to Alexandra's Fitness Model Finishing School, visit http://www.fitnessmodelfinishingschool.com.
About Alexandra
Alexandra is a fully qualified personal trainer with a wealth of experience in the industry, creating personalised fitness and nutrition plans and online coaching programmes to inspire and motivate people to look, feel and be their best.
She recently became one of the first people in the world and one of only 20 selected from the UK to be given the status of 'Physique Elite Master Trainer' by world-renowned trainers Neil Hill and Kris Gethin. She has been featured in modelling shots in, and written articles for, a variety of magazines in the UK and abroad (Red, Health & Fitness, Now, Women's Fitness, Ultra Fit, Fit and Firm, ExtraFit and Fitnorama). She is an ambassador for the 'Better Bodies' range of fitness clothing, the face of Biondi Couture's fitness competition range and Mark Anthony's 'Body Trainer' exercise device.
To find out more about Alexandra, receive a free 'I will make you lean' e-book, sign up for her free e-news containing tips, advice and information and receive details of new programmes as they launch, visit: http://www.alexandrawilson.com.