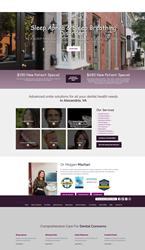 We are so honored to be selected as a 2020 Top Patient Rated Alexandria Dentist. I truly value my patients and strive to provide everything they need and deserve when it comes to dental care, says Dr. Mojgan Mazhari
ALEXANDRIA, Va. (PRWEB) August 07, 2020
Alexandria Dental Health & Smile Studio is located at 2813 Duke Street in Alexandria, Virginia. Led by Dr. Mojgan Mazhari, this well-respected practice offers advanced smile solutions to meet all of their patients' dental health needs. Alexandria Dental Health & Smile Studio is among an exclusive group of dental practices with a large number of five-star ratings and superior online reviews. As a result, Find Local Doctors has chosen Alexandria Dental Health & Smile Studio as a 2020 Top Patient Rated Alexandria Dentist. Find Local Doctors provides a trusted online directory, helping patients to easily locate qualified and reputable physicians and dentists in their area.
"We are so honored to be selected as a 2020 Top Patient Rated Alexandria Dentist. I truly value my patients and strive to provide everything they need and deserve when it comes to dental care," says Dr. Mojgan Mazhari
Alexandria Dental Health & Smile Studio is a state-of-the-art dental practice that uses the latest technology and techniques to provide superior dental care for patients in a relaxing environment. This practice offers general dentistry services such as dental cleanings, dental fillings, chipped tooth repair, periodontal therapy, root canals, tooth extractions and treating tooth pain/jaw pain. The team offers treatment for sleep apnea, TMJ disorders and orthodontic care, including Invisalign clear aligners. Patients can benefit from restorative dentistry options, including implant surgery and crown restorations and the convenience of a CEREC machine, which provides 3D scans for same day, in-office crowns and partial crowns. Dr. Mazhari also provides her expertise for the treatment of severely worn teeth with full mouth rehabilitation to improve bite and function. Alexandria Dental Health & Smile Studio offers cosmetic dentistry services such as high-quality Lumineers dental veneers, sedation dentistry and emergency care services for patients. Alexandria Dental Health & Smile Studio is the premier practice in Alexandria for regular dental checkups, preventive maintenance and advanced care.
More about Dr. Mojgan Mazhari:
Dr. Mojgan Mazhari earned her dental degree from the University of Maryland at Baltimore. She attended the Las Vegas Institute for Advanced Dental Studies (LVI), receiving additional training in cosmetic, neuromuscular and restorative services. Dr. Mazhari is also a fellow of LVI, a distinction shared by only a handful of dentists nationally. She is a contributing author for various publications and provides editorial review for Your Dental Health Resource, a leading online dental health blog and informational resource. Her professional affiliations include The American Academy of Cosmetic Dentistry (AACD), Dental Organization for Conscious Oral Sedation (DOCS) and The Crown Council CEREC Doctors.
For more information about Alexandria Dental Health & Smile Studio, please visit the practice website http://www.alexandriadentalhealth.com or call (703) 212-9622.