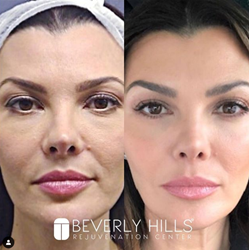 When I saw the side by side, I'm not kidding you, I almost fell out of my chair. - Ali Landry
LOS ANGELES (PRWEB) March 04, 2020
Ali Landry, founder of RE/SHAPE, appeared on the popular syndicated talk show, "The Doctors," on February 24 to discuss a cutting-edge therapeutic service, regenerative cell therapy, that she has been receiving from Beverly Hills Rejuvenation Center®, the premier medical spa for health and beauty.
From age rejuvenation treatments like facial wrinkles, hair loss and sexual health to wellness procedures for joint repair, sport injuries and rapid recovery, the Regenerative Cell Therapy services are offered at select Beverly Hills Rejuvenation Center® locations.
Landry has been going to Beverly Hills Rejuvenation Center®'s Regenerative Cell Therapy treatment to helping her cope chronic pain, which she believes stems from a car accident she had 20 years ago. The Regenerative Cell Therapy is able to detect damaged joint cartilage and then offers targeted injections that can potentially treat arthritis.
But as the world learned on "The Doctors," Landry has also been going to BHRC to keep her skin looking young.
As she says on "The Doctors," in a segment where they show her receiving a Regenerative Cell Therapy treatment, "I just turned 46 years old, and everything seems to have changed."
After the segment, in the studio audience, the hosts showed a "before" and "after" photo of Landry, demonstrating what a Regenerative Cell Therapy treatment can do.
Landry, who is also a mother of three, actress and a former Miss USA, told the hosts and audience, "When I saw the side by side, I'm not kidding you, I almost fell out of my chair."
Beverly Hills Rejuvenation Center's regenerative products are FDA-compliant human cell and tissue products (HCT/P) and sourced from the rich Wharton's Jelly layer of the umbilical cord and amniotic fluid and amino tissue from healthy, full term donors.
The Beverly Hills Rejuvenation Center® offers an array of aesthetic and beauty procedures that range from injectables, laser hair removal, facials as well as anti-aging, hormones and wellness treatments. The board-certified, expert staff utilizes state-of-the-art equipment and the highest quality products for each of the different treatments that deliver visible results.
Consults for health, wellness and beauty treatments are always complimentary at the Beverly Hills Rejuvenation Center®. To schedule a consultation or for more information, please visit us online at http://www.bhrcenter.com.
As one of the few medical spa franchises available in the U.S., the Beverly Hills Rejuvenation Center® business model has been the perfect diversification plan for seasoned entrepreneurs and physicians seeking a cutting edge offering in a rapidly growing market that currently exceeds $15 billion/year. For more information about franchise opportunities, please call us at (310) 473-5800 or visit https://bhrcenter.com/medspa-franchise.
ABOUT BEVERLY HILLS REJUVENATION CENTER®
For more than 15 years, Beverly Hills Rejuvenation Center®, has been the leader in the aesthetic and wellness industries for their innovative elite health and wellness programs, customizing anti-aging therapies, cutting-edge technologies, and seasoned team of industry professionals. Currently, BHRC operates 16 locations in key markets including Los Angeles, Newport Beach, Las Vegas, Scottsdale, Dallas, San Antonio, Austin, Boca Raton and now Houston.