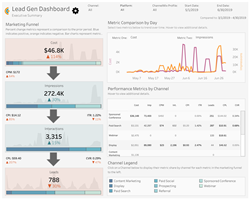 We're giving marketers a custom experience that's highly automated. No one else is doing that. Not software and not consultants. We want to put analytics in the hands of every marketer who wants it in a way that makes sense for them.
KANSAS CITY, Mo. (PRWEB) February 17, 2020
Alight Analytics has paved a new way in the world of marketing analytics with a suite of outcome-focused reporting solutions that deliver a turnkey way to analyze marketing performance. Each solution is designed specifically for the marketer's unique campaign goals and strategies without requiring them to be data experts.
Until now, marketers have had to choose between self-service software or outsourcing to a consultant, only to end up with a solution they outgrow or are unable to maintain. Alight's lineup of solutions boldly delivers a third option to marketers, combining Alight's proprietary ChannelMix platform, which automates the data and reporting workflows, with a team of analytics experts who ensure the solution is customized and configured for the marketer's role and campaign strategy.
"It's a revolutionary approach to marketing analytics," said Matt Hertig, Alight Analytics' CEO and co-founder. "We're giving marketers a custom experience that's highly automated. No one else is doing that. Not software and not consultants. We want to put analytics in the hands of every marketer who wants it in a way that makes sense for them.
"Some of our clients are focused solely on reporting, and that's completely understandable," Hertig continued. "But if you want to eventually evolve your ability to produce more in-depth insights with attribution and predictive modeling, Alight's solutions will enable that as well."
The solution suite aligns to business questions and KPIs related to lead generation, paid media, eCommerce, website performance, social engagement and more. Each solution comes in three packages that offer increasingly sophisticated analysis — from automated data aggregation and reporting all the way to attribution and modeling — to fit a variety of price points and analytics objectives. Clients are paired with a team of analytics experts who guide the data and analytics strategy. A roadmap provides waypoints to ensure the long-term success of the solution.
"Marketers want answers — that's the whole point of marketing analytics," said Michelle Jacobs, Alight's president and co-founder. "With our new suite, we've created solutions that deliver powerful reporting and insights that align directly to the pain points we have been hearing from clients, prospects and industry influencers over the past 12 years.
"Self-service software continues to fail them, requiring data management expertise they don't have or lacking in customization for their unique campaigns and goals. Custom consulting can take months to build just a single report and years to build a media mix model, and even if they can afford the time, it is often cost-prohibitive."
Powering these solutions is ChannelMix, Alight's proprietary marketing intelligence platform, which automates both the tedious and complex tasks required for deep analysis of marketing performance. Unlike other marketing data management platforms, ChannelMix requires no coding or querying experience, making the platform accessible to marketers who are just launching their analytics practice as well as seasoned data veterans.
It also universally integrates with any marketing, media or sales data source — even those without an API — and is compatible with any BI or visualization tool including Tableau, Google Data Studio, Microsoft Power BI and Looker.
"We want our clients to devote the majority of their workweek to higher-level efforts like insights, optimization and planning, where they add the greatest value," said Jacobs. "They don't need to spend time constantly managing their software or recruiting data scientists and report builders."
All of this puts sophisticated analysis like cross-channel reporting, campaign pacing and attribution, audience segmentation and even predictive modeling in the hands of marketers who are hungry for a more data-driven approach to their work.
"Analytics can be very powerful for marketers," Hertig said. "And we want to make sure they're set up for success, that it's not just a one-and-done project, but a part of their long-term marketing strategy."
ABOUT ALIGHT ANALYTICS
Alight Analytics delivers next-generation analytics solutions designed for every marketer. Alight's solution suite offers a turnkey way to analyze marketing performance, so any marketing team can leverage the power of analytics to demonstrate value and drive business growth.
The suite combines the speed of software with the flexibility and expertise of an outsourced consulting project. Alight's ChannelMix marketing intelligence platform automates the data workflow, while a team of analytics experts customizes and configures the solution to address the marketer's specific campaign goals and strategies.
The Kansas City-based company is a four-time Inc. 5000 honoree, making it one of America's fastest-growing private companies. Their clients include nationally recognized brands and agencies, such as Maui Jim, Adidas, Mattel and Tinuiti. Learn more at alightanalytics.com.