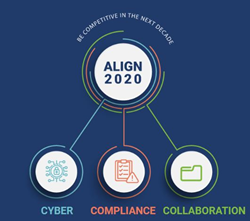 The key to being competitive in 2020 is anticipating what matters both inside and outside a business.
HOBOKEN, N.J. (PRWEB) March 30, 2020
eMazzanti Technologies, an award-winning NYC technology consultant, Microsoft Gold Partner and managed services provider (MSP) said today that the previously announced Align2020 conference will be conducted virtually.
Align2020 is an innovative forum that presents best practices for business owners and C-level executives as they face current cyber security, compliance and collaboration challenges.
The virtual event is scheduled for 9:00 a.m. to 1:30 p.m. on Wednesday, April 1, 2020 and features separate Cyber, Compliance and Collaboration Tracks followed by a panel discussion at noon.
To register for Align2020, visit http://www.emazzanti.net\align2020.
Speakers include Carl Mazzanti, a network and cyber security expert at eMazzanti Technologies Corey Nachreiner, Chief Technology Officer at WatchGuard Technologies, and several other cyber security, business and technology experts.
Nachreiner will discuss the failings of IT infrastructures that put organizations at risk. Participants will obtain practical ideas on how to manage for cyber threats and understand what it takes to enable a comprehensive strategy that is simple for the organization to manage.
Chris Shiffer, Weather Advisor at the Wealth Enhancement Group, will present Financial Planning Ideas for You and Your Business in 2020, including the impact of the new SECURE Act. In addition, the Noon panel discussion will focus on questions from the attendees.
The key to being competitive in 2020 is anticipating what matters both inside and outside a business. Align2020 is designed to provide introductions to experienced advisors and mentors who can help build and secure the foundation of a business organization for the next decade.
All the speakers and participating firms have long-standing success in their respective practice areas. Interested business leaders are invited to ramp up their knowledge about leading trends for 2020 as well as to communicate top of mind concerns.
Click here for additional Align 2020 information.
Have you read?
Protect Your Business from COVID-19 Phishing Scams
Working Remotely, What You Need to Know
About eMazzanti Technologies
eMazzanti's team of trained, certified IT experts rapidly deliver increased revenue growth, data security and productivity for clients ranging from law firms to high-end global retailers, providing advanced retail and payment technology, cloud and mobile solutions, multi-site implementations, 24×7 outsourced network management, remote monitoring and support.
eMazzanti has made the Inc. 5000 list eight consecutive years, is a 4X Microsoft Partner of the Year, the #1 ranked NYC area MSP and NJ Business of the Year! Contact: 1-866-362-9926, info@emazzanti.net or http://www.emazzanti.net Twitter: @emazzanti Facebook: Facebook.com/emazzantitechnologies.