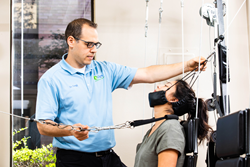 In many instances, the symptoms caused by back or neck pain can cascade into numbness and tingling down your arm, which puts stress on the heart and lungs
NORTHBROOK, Ill. (PRWEB) November 08, 2021
Northbrook IL, Chiropractor - Align Wellness Center, a leading provider of patient-centered, outcome-driven chiropractic care and spinal remodeling, announced today that it received the 2021 Glenbrook Reader's Choice Award for Best Chiropractor. Thousands of readers voted, and the results were published in both the Glenview and Northbrook Heralds.
"This is incredibly exciting and quite an honor," said Dr. Gregg Gerstin, owner of Align Wellness Center. "We were recognized not only for our services and dedication to keeping our patients healthy, but also because of our investment in the Glenview and Northbrook communities."
Align Wellness Center works with local businesses to provide onsite programs for employees so they can take action to improve and sustain their health. Additionally, the practice works with local resources like the Northbrook Chamber of Commerce, YMCA, and participates in village events to educate people in the community.
Align Wellness recognizes that total health begins with the spine, and issues that aren't addressed properly develop into bigger problems. "In many instances, the symptoms caused by back or neck pain can cascade into numbness and tingling down your arm, which puts stress on the heart and lungs," adds Dr. Gerstin. "Then you realize your energy and metabolism are lower, which can lead to sleep apnea, then--if you're a younger person--you end up taking more medications than the average 60-year-old."
Align Wellness Center's greatest differentiator is finding and treating the root causes of pain and ailments rather than just chasing the symptoms. The center offers a broad spectrum of treatment services from back, neck, and shoulder pain care to whiplash, sciatica, scoliosis, sports injury treatment, and more. The clinical team are CBP (Chiropractic BioPhysics) certified and are uniquely qualified to provide true spinal correction, improved activities of daily living, longer lasting pain relief, and improved neurological function. Another unique feature of the center is its corrective solutions for migraines, temporomandibular joint dysfunction (TMJD), and Vertigo:
Migraines: chiropractic adjustments, corrective exercises, and spinal remodeling to strengthen and stabilize the spin, and in specific cases special spinal remodeling for spinal curving optimization
TMJD: spinal posture correction with Chiropractic Biophysics, spinal remodeling, and an exercise program to realign and relieve pain
Vertigo: cervical spine corrective treatments to relieve tension to cervical curve and stop the dizziness, disorientation, and other symptoms of vertigo
Align Wellness Center also won the 22nd Century Media NorthShore Choice Award for Best Chiropractor in 2017 and 2018.
About Align Wellness Center
Align Wellness Center is a premier provider of wellness care and holistic healing. In an interdisciplinary approach that includes chiropractic care, spinal remodeling, functional fitness training, and high-quality nutritional supplements, Align Wellness Center has achieved unparalleled success in reducing stress, alleviating pain, and preventing sickness. The Center blends high-tech with high-touch to deliver naturally painless remedies to many health problems. To achieve optimal health, contact Dr. Gregg Gerstin at 847-860-6599 or info@alignwc.com. Visit alignwc.com and watch helpful videos on the Align Wellness Center YouTube channel.