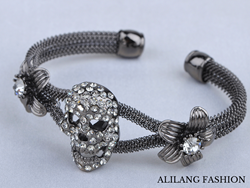 Halloween is around the corner and Alilang has the most stunning and devilish jewelry pieces for Halloween costumes & decor this year.
ANAHEIM, Calif. (PRWEB) September 30, 2020
Alilang Fashion, a premier marketplace for mostly fashion clothing & accessories, has the best jewelry pieces for Halloween this year. The brand new Halloween jewelry collection has over 100 different styles featuring skulls, spiders, bats, and pirate inspired motifs. The designs are translated onto beautiful bracelets, brooches, earrings, and necklaces giving Halloween enthusiasts a large variety of scary & fun Halloween accessory options with some pieces embellished with brilliant Swarovski crystals. The entire new Halloween jewelry collection can be browsed here.
Alilang has jewelry that are both beautiful and spooky for Halloween. For example, their new ghoulish gun metal skull brooches are adorned in glistening rhinestones for the perfect balance of shine and darkness. While the skulls are fantastic for the fun festivities, they still manage to encompass the spirit of Halloween night. The skull earrings are also a popular choice to top off one's darker themed costume along with its complementing floral skull bracelet.
Halloween often means it's time for creepy crawlers so Alilang has the 8-legged spiders in the form of brooches as well as bracelets and necklaces. The bestselling spider brooch is adorned with brilliant rhinestones with colors such as brilliant blue, sanguine red, venomous green, and classic black. The spider bracelets add an exciting and crawling touch to any wrist while the spider necklaces add more of a chilling exotic pop of color to a Halloween costume.
All the jewelry pieces start as low as $11.99 with an average $14.99 price point making them affordable quality accessories for the upcoming Halloween festivities this year. There's also FREE shipping on all items and all orders are shipped from their warehouse in Anaheim, California.
The Halloween accessories along with every other item on Alilang can be purchased for even cheaper at Alilang's member price. The member price is available to VIP members who sign up to join the Alilang VIP Membership Program. There, members enjoy discounts on all items on the website from 30-80% off. The membership is $9.99/mo and is free to cancel at any time with no extra fees or charges. With the membership, customers can grab the Halloween jewelry pieces at a guaranteed low prices.
Additionally, Alilang has an Affiliate Program that is currently paying 25% in commissions for all referred orders for a limited time only. New affiliates can sign up for free, share the fantastic Halloween jewelry pieces, and get a 25% cut from the orders they helped generate.
Despite the state of the world, there's always room to have a little fun during the once-a-year celebration. Halloween is around the corner and Alilang has the most stunning and devilish jewelry pieces for Halloween costumes & decor this year. Enthusiasts now have the chance to embrace their inner Halloween spirit and choose from a multitude of spooky colors and designs that best fit their Halloween goals today.
To browse more of Alilang's new massive Halloween jewelry collection, please visit https://alilang.com/pages/halloween-jewelry.