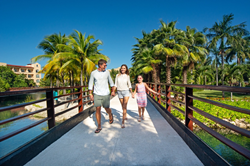 CANCUN QUINTANA ROO, Mexico (PRWEB) May 28, 2021
All six Sunset World Group hotels, Hacienda Tres Ríos Resort, Spa & Nature Park, located in the Riviera Maya, Sunset Fishermen Beach Resort, located in Playa del Carmen, and four hotels in Cancun, Sunset Royal Beach Resort, Sunset Marina Resort & Yacht Club, Laguna Suites Golf + Spa and Ocean Spa Hotel, received the 2021 Travellers' Choice award from world-renowned travel site, TripAdvisor.
This coveted award recognizes hotels that offer their guests memorable vacation experiences and are in the top 10% for customer satisfaction, quality and service. Winners are selected according to ratings, opinions and other elements that travelers from around the world share on TripAdvisor.
Hacienda Tres Ríos is the only environmentally responsible luxury resort that offers exclusive access to the Tres Ríos Nature Park in the Riviera Maya with a truly comprehensive Luxury All Inclusive Plan. Enjoy architecturally acclaimed accommodations, fine dining, a new activities program with live entertainment for the whole family, shows and dining experiences, a fun water slide area and splash zone for kids, world-class spa services, and dazzling experiences at the exclusive Tres Ríos Nature Park, with guided tours through mangrove forests, swimming, snorkeling, and kayaking along winding natural rivers or simply unwind on its tranquil beaches.
Sunset Fishermen Resort is located in Playacar, an exclusive residential area in the heart of the Riviera Maya, close to the main street of Playa del Carmen; a fishing village of the near past that still exudes rustic charm and tranquility mixed with the comfort, opulence and fun of a modern town and an endless scope of exciting activities the region has to offer.
Resting on the shores of a beautiful white sand beach in Mexico's Caribbean with charming views of the turquoise blue sea, Sunset Royal offers fine entertainment and activities for the whole family, all throughout the day and well into the evening, playground for kids, a brand new Mexican restaurant and other dining experiences. Sunset Royal's privileged location provides convenient access to the best in travel entertainment, nightclubs, restaurants, as well as shopping.
Sunset Marina is a charming, Mediterranean-style resort, nestled in the beautiful landscape of the Caribbean and Cancún's hotel zone. It provides a peaceful and relaxing getaway where kids can also enjoy their vacations with areas specially designed just for them. Ground transportation between our Cancún resorts and hotels, as well as water transportation to and from Sunset Royal means that ocean beach access is just a few minutes away.
The comfortable Ocean Spa Hotel is located in Cancún's Hotel Zone, just minutes from downtown and close to shopping centers, restaurants, and area attractions. In addition, complimentary ground transportation to Sunset Royal, Sunset Marina and Laguna Suites is offered so that you can enjoy and take advantage of these other facilities. Ocean Spa Hotel is a resort where balance and a great atmosphere of relaxation can be found.
Nestled in an exclusive area in the heart of Cancún's Hotel Zone and on the grounds of the magnificent Pok Ta Pok Golf Club, Laguna Suites Golf + Spa offers beautiful views of the golf course or of fabulous sunsets over the Nichupté Lagoon. Our spa offers a complete wellness experience to refresh and renew the body and spirit. This boutique hotel has been transformed into an exclusive oasis of health and wellness. With the beaches and excitement of Cancún only 10 minutes away by complimentary shuttle, each guest can definitely appreciate the secluded and exclusive feel of this charming and contemporary property.
Sunset World Group is a family-owned Mexican company and a leader in the hospitality industry, offering authentic and unforgettable vacation experiences in Cancun and the Riviera Maya. It was founded more than 30 years ago and has grown to offer six resorts, world-class travel services, amenities and a diverse network of operational and marketing solutions that focus on providing the best vacation experiences for its Members and guests. From cultural excursions to water sports, the Members of Sunset World are never far from their next great adventure.