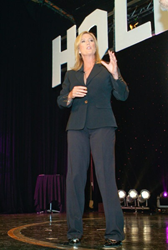 We don't choose our circumstances in life, but we do choose how we respond to them. Being resilient won't take away our pain, but we can weave our hurts and losses together into the fabric of a rich, fulfilling and far more meaningful life
ST. PETERSBURG, Fla. (PRWEB) March 08, 2021
All American, NCAA Champion, Former Division I Women's Lacrosse Coach at Vanderbilt University, Entrepreneur and Renowned Guerrilla Marketing Expert Launches Bounce Back a Motivational & Inspirational Podcast
Wendy's first Podcast Guerrilla Marketing To Women was released in 2013 and immediately debuted as a top ranked New & Noteworthy Podcast in iTunes in both the Marketing and Business catagories.
Wendy Stevens new Bounce Back Podcast will feature amazing stories of people who have overcome incredible odds and adversity to bounce back in business and life.
St. Petersburg, Florida March 5th Coach Wendy Stevens announced today that she is launching her long anticipated Bounce Back Podcast.
2020 was a year of incredible hardship, full of disappointments, frustrations, and devastating setbacks for many people. Financial problems, health crises, mental health challenges, business failures, unemployment, or suffering from the loss of a family member or loved one were, and continue to be, horrible common occurrences due to the Covid-19 pandemic.
But even in the best of times, life is still full of setbacks.
Wendy is highly qualified to speak about bouncing back from adversity. From not one but two surprise Open Heart surgeries she has personally experienced how difficult and overwhelming life can be. She has overcome difficult circumstances and tragic losses of loved ones. After a bitter divorce, tragic accidents, and legal problems that resulted in major financial losses and personal turmoil, she hit rock bottom.
As a struggling single mom, Wendy was once 90 days away from losing her home with no college degree or business or marketing education of any kind.
But she persevered. And she overcame. She became a multiple 7-figure online entrepreneur, bestselling author, and in-demand keynote speaker. She became the guerrilla "marketing secret weapon" for many top experts, speakers, authors, and entrepreneurs in various fields and industries around the world.
Wendy Says, "We don't choose our circumstances in life, but we do choose how we respond to them. Being resilient won't take away our pain, but we can weave our hurts and losses together into the fabric of a rich, fulfilling and far more meaningful life."
She has discovered that bouncing back is possible for those who discover and are willing to take responsibility, make key decisions to act on the strategies and tactics to navigate the course of their own exhilarating comeback and ultimate success journey.
The Bounce Back Podcast will inspire and motivate listeners as they hear the amazing stories of real people from various walks of life who have overcome incredible odds. Wendy and her remarkable lineup of guests will share stories of pain, heartache and loss, but also of courage, perseverance and triumph.
To hear these hope-filled and awe inspiring interviews find out more at bouncebackpodcast.com.
About Wendy Stevens:
Coach Wendy Stevens is a world-renowned Guerrilla Marketing expert, author, and speaker. Before entering the world of digital marketing, she was a lacrosse coach at Vanderbilt University. As a student at the University of Maryland, she made the Women's Lacrosse team as a walk-on. She became a three-time All-American, MVP and 1986 NCAA champion.
Her new book, Bounce Back-Recover Your Confidence To Step Into Your Power & Fulfill Your Destiny will be published by Morgan James Publishing and released in 2021.
Helpful Links:
https://bouncebackpodcast.com
https://coachwendystevens.com
Https://guerrillamarketingagency.live