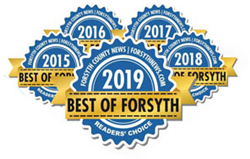 CUMMING, Ga. (PRWEB) September 26, 2019
All Stars Pediatric Dentistry, a children's dentist based in Cumming, Georgia, was recently announced as the winner for "Best Children's Dentist" in the 2019 Best of Forsyth Awards. With ten entrants competing for the title this year, the team at All Stars Pediatric Dentistry is pleased to have earned this coveted award for the fifth year in a row. On top of receiving the "Best of Forsyth" award each year since 2015, this Cumming children's dentist also boasts a perfect 5-Star rating from all of their patients and parents.
Dr. John Haffner, the lead dentist at All Stars Pediatric Dentistry, spoke for his office and team of certified hygienists regarding the 2019 "Best Children's Dentist" award: "We're very honored to hold this title for the fifth year in a row. Our goal as pediatric dentists is to provide an environment that is personable, child-friendly, and educational. We want our patients to have a positive and memorable experience each visit, as well as have a better understanding of proper dental health. It's very humbling that our patients and their parents hold us in such high regard. We wouldn't have been able to keep receiving these awards without their support."
Readers and voters for the 2019 "Best of Forsyth" awards can view the full list of winners here: http://forsythnews.secondstreetapp.com/The-Best-of-Forsyth-2019/gallery/?group=295992
About All Stars Pediatric Dentistry
This Cumming children's dentist prioritizes the wellness and comfort of each and every patient. While originally working under a large-scale children's dental clinic, Dr. Haffner wished to branch off with a smaller office where he could better connect with his patients. Creating All Stars Pediatric Dentistry has helped him bring his dream to life.
"I've never been happier in my profession," Dr. Haffner commented. "All I've ever wanted was to capture the fun and carefree atmosphere I felt growing up in North Georgia, and place it in a pediatric dentist setting where the patients see how much we care about not only their oral health, but also who they are as a person. This small-scale dental clinic has allowed my team and I to establish trust and a lasting rapport with each and every patient."
To learn more about All Stars Pediatric Dentistry, or to schedule an appointment, visit: https://www.allstarschildrensdentist.com/
About the "Best of Forsyth" Awards
This annual award event runs each year from September - October, and focuses on seven main industries in Forsyth county: Auto and Marine, Business, Community, Education, Food & Beverage, Medical, and Professionals. Community members can nominate their favorite businesses from September 1 - 30, and voting runs from October 1 - 31. The industry winners are announced the following January.
All Stars Pediatric Dentistry has already been selected as "Best Children's Dentist" during the nominating period for 2020. Follow their progress and stay tuned for the winners to be announced next year by visiting: https://forsythnews.secondstreetapp.com/The-Best-of-Forsyth-2020-3/