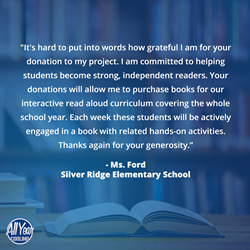 We are always happy to help out the community. Ms. Ford and her students will benefit greatly from a larger classroom library and the opportunity to read and learn more with these books
FORT LAUDERDALE, Fla. (PRWEB) December 21, 2018
All Year Cooling, a family-owned air conditioning installation and repair company, gives back to the South Florida community with a recent donation to a third-grade classroom at Silver Ridge Elementary School in Davie, Florida.
The donation will provide Ms. Ford's third-grade class with a wide range of books including folktales, poetry, and multi-cultural novels. Ms. Ford's goal is to improve students' reading comprehension, vocabulary development, grammar, and writing using these books.
Ms. Ford says third grade is when students start reading longer chapter books and has noticed her students have been spending more time reading just for pleasure.
"I am committed to helping students become strong, independent readers," said Ms. Ford. "Your donations will allow me to purchase books for our interactive read aloud curriculum covering the whole school year."
All Year Cooling's President, Tommy Smith, has always held community service close to his heart.
"We are always happy to help out the community. Ms. Ford and her students will benefit greatly from a larger classroom library and the opportunity to read and learn more with these books," said All Year Cooling President, Tommy Smith.
All Year Cooling donates to many Broward County Schools each year. As a family-owned business, the air conditioning company enjoys making contributions to the local community such as donations to Projectwecare.org, the American Cancer Society, and the local Kids in Distress (KID) holiday toy drive each year.
More about All Year Cooling:
Established in 1973, All Year Cooling has completed over 350,000 air conditioner installations in South Florida. Their goal is to provide the consumer with the best overall value and service on new air conditioner installations, maintenance, and repairs. Tommy Smith along with his team makes it their mission to provide quality service and remain a trusted part of the South Florida community. Call All Year Cooling for all your AC needs at 888-204-5554 or visit the website at https://www.allyearcooling.com/ for more information!