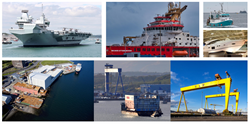 My team and I are extremely excited to provide support on such a significant project, as the ability to articulate the future in a meaningful and useful way is extremely challenging. AllChange's experience of achieving this collaboratively will help the shipbuilding industry create a viable target o
BRACKNELL, United Kingdom (PRWEB) September 23, 2020
AllChange Strategic Consulting are honoured to be selected to assist with the development of a coherent vision and strategy for the UK's Shipbuilding Industry.
"My team and I are extremely excited to provide support on such a significant project, as the ability to articulate the future in a meaningful and useful way is extremely challenging. AllChange's experience of achieving this collaboratively will help the shipbuilding industry create a viable target operating model that incorporates how 'they' need to operate now and in the future, enabling the industry to build the future together", said Ian Ure, managing director, AllChange Strategic Consulting Ltd.
By creating a Blueprint Visual Target Operating Model (TOM) that articulates a vision and strategy for the UK's maritime industry over the next 30-years. This exciting and significant project will focus on two areas:

Business Ecosystem Design – harnessing the maritime industry ecosystem through the introduction of a rich design discussion that lands the collective government, industry and academia thinking onto the ground in a highly collaborative and understandable way; that builds consensus on the way forward so the industry can confidently build the future together; and
Blueprint Visual TOM – iterative production of a visual model that the maritime industry can clearly understand, identify-with and get behind; that is capable of informing shipbuilding industry operating model design and implementation.
This project builds on the UK National Shipbuilding Strategy, outlining an ambition to transform both commercial and naval shipbuilding, make the UK's maritime industry more competitive, grow the Royal Navy fleet by the 2030s, export British ships overseas, and boost innovation, skills, jobs, and productivity across the UK.
AllChange is proud to be part of a truly world-class partnership. As a member of the QinetiQ SME ecosystem, we are able to leverage our specialist strategic change expertise, backed by a partner who understands how to create collaborative ecosystems and unrivalled capability through the best of industry.
Company Overview
AllChange Strategic Consulting is a specialist strategic change consultancy providing strategy implementation, change and innovation leadership to clients' around the world.
Our unique visualisation expertise plays at the nexus of strategy, technology and design to leverage innovation and unlock new paths to growth and value. We bring strategy to life in a way that connects with people's heads, hearts and hands - explicitly connecting enterprise ideas and strategic intent to meaningful front-line delivery.
Our Approach
To learn more about our uniquely collaborative Target Operating Model approach, we have written a thought piece titled 'Strategy to Action', which can be found on the AllChange website on the blog. https://www.allchange.co.uk/blog/strategy-to-action/
LinkedIn AllChange Corporate Page : https://www.linkedin.com/company/allchange-strategic-consulting/?viewAsMember=true