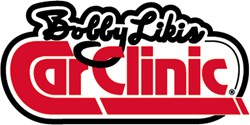 ALLDATA's at it again... and 'it' is the innovation and delivery of powerful e-tools for automotive service shop and technician professionals.
Las Vegas, NV (PRWEB) November 06, 2013
Bobby Likis, automotive expert and host of the nationally syndicated car-talk program "Bobby Likis Car Clinic," will interview Jeff Lagges, President of ALLDATA LLC, at ALLDATA booth #11119 at the SEMA Show in the Las Vegas Convention Center, today at 1 p.m.
Likis will be among the first people to be introduced to the new ALLDATA Mobile App and the cloud-based ALLDATA Manage Online shop management system. Says Likis, "ALLDATA's at it again...and 'it' is the innovation and delivery of powerful e-tools for automotive service shop and technician professionals." Likis expands, "During Automotive Aftermarket Industry Week in Las Vegas, ALLDATA is revealing and demonstrating two new products that have dual purposes of helping auto shops unplug, yet stay powerfully connected. I'll talk with ALLDATA President Jeff Lagges specifically about how ALLDATA Mobile and ALLDATA Manage Online work individually and synergistically to improve shop operations and profitability."
Likis and Lagges will explore ALLDATA MobileSM, which is now available as an iPad app and will soon be introduced on the Android platform. With ALLDATA Mobile, technicians can access ALLDATA's vast database of vehicle manufacturers' diagnostic and repair information. They can also connect to vehicles through the OBD port, read VIN information and pull standard P Codes, which are linked to specific manufacturers' repair articles.
ALLDATA Manage Online, a cloud-based shop management system, will also be introduced during Industry Week. ALLDATA Manage Online is a streamlined, browser-enabled application. Because of this, a service writer can have access to ALLDATA Manage® Online anywhere within a repair shop that has WiFi – even from tablets/mobile devices. As an online product, there is no installation, and backups and updates are automatic.
All press is welcomed to attend Likis's interview of Lagges, and both will be available for discussions afterward.
About Bobby Likis
Bobby Likis is the only car-talk host on commercial radio named to the "Talkers 250," the list of the top 250 talk-show hosts in America for 5 consecutive years. Likis also owns and operates an award-winning automotive service facility. For more information about automotive expert Bobby Likis and the Car Clinic Network, drive to http://www.CarClinicNetwork.com.
About ALLDATA
ALLDATA, founded in 1986, with more than 80,000 automotive repair and collision shop subscribers, is the leading provider of manufacturers' service and repair information, shop management software and customer relations tools for the automotive repair and collision industries. Professional automotive repair shops across North America depend on ALLDATA for their automotive repair information needs and to purchase parts from more than 3,400 AutoZone Commercial program locations.
ALLDATA Collision® S3500 is the single source of OEM collision repair information delivering unedited and regularly updated information for structural repairs, mechanical and diagnostic information. ALLDATA Repair® S3000 is the leading provider of comprehensive, factory-correct repair information for the automotive industry. Also available are: ALLDATA Manage®, a strategic shop management system; ALLDATA Market®, a web-based shop marketing tool to bring in new and repeat business and the AutoZone® Aftermarket Parts Catalog and AZ PartsConnect® program for aftermarket parts estimating and electronic ordering. ALLDATAdiy.com provides consumers with repair articles, factory technical service bulletins, and illustrations for a specific vehicle, along with a link to ALLDATA-approved repair shops. Visit http://www.alldata.com for more information.
About Car Clinic Network
Car Clinic Network is the most extensive car-talk network on commercial radio, including terrestrial broadcast, CarClinicNetwork.com (audiocast live and libraried, streaming videocast, interactive chat), podcast on assorted outlets (including iTunes and iPhone), live on Facebook.com/BobbyLikis, globalcast on multiple Internet stations, and CelleCast (on all cell phones, regardless of brand or service provider). "Bobby Likis Car Clinic" also enjoys reach via Social Media, including Facebook, Twitter and YouTube. Car Clinic's Network is one without geographical confines, and automotive consumers everywhere can watch Bobby live from his studio every Saturday during "Bobby Likis Car Clinic" on WatchBobbyLive.com