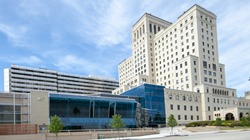 "By upholding the highest, evidence-based standards of care, we have established a longstanding legacy at AGH and AHN of providing hope to patients with even the most complex cardiovascular diseases."
PITTSBURGH (PRWEB) January 13, 2021
Allegheny General Hospital (AGH), the flagship academic medical center of Pittsburgh-based Allegheny Health Network (AHN), is the first hospital in Pennsylvania and one of just 16 in the United States to earn The Joint Commission's Gold Seal of Approval© for Comprehensive Cardiac Center Certification. The announcement marks the latest achievement from the nationally-acclaimed team of cardiologists and cardiothoracic surgeons of the AHN Cardiovascular Institute.
The prestigious designation was created in 2018 through an innovative collaboration with the American Heart Association (AHA) leveraging the organization's combined strengths in science, research and quality improvement. Regarded as an opportunity to recognize the top medical facilities in the country for excellence in comprehensive cardiac care, the rigorous assessment looks at every touchpoint in a patient's ongoing care continuum.
"On behalf of Allegheny Health Network, we're truly honored to receive this distinguished recognition from The Joint Commission which reflects the exceptional quality of our programs and caregivers across the entire Cardiovascular Institute," said Stephen Bailey, MD, Department Chair of Cardiovascular and Thoracic Surgery at AHN. "By upholding the highest, evidence-based standards of care, we have established a longstanding legacy at AGH and AHN of providing hope to patients with even the most complex cardiovascular diseases."
In late 2020, AGH underwent a rigorous, unannounced onsite review in which a Joint Commission team evaluated the hospital's compliance with related certification standards, including disease management, cardiac rehabilitation, clinician training, patient transfers, clinical care delivery and prevention care planning, among others. Reviewers also conducted onsite observations and patient interviews as part of the evaluation.
"This designation is a true testament to our many skilled clinicians and their unwavering commitment to leading, multidisciplinary care," said Srinivas Murali, MD, System Chairman for the AHN Department of Cardiovascular Medicine. "We couldn't be more proud of their outstanding work across all of our esteemed cardiovascular programs at AGH."
"Comprehensive Cardiac Center Certification recognizes health care organizations committed to fostering continuous quality improvement in patient safety and quality of care as established by national experts in the field," said Mark Pelletier, RN, MS, chief operating officer, Accreditation and Certification Operations, and chief nursing executive, The Joint Commission. "We commend Allegheny General Hospital for using certification to reduce variation in its clinical processes and to strengthen its program structure and management framework for cardiac patients."
For decades, the AHN Cardiovascular Institute has been synonymous with care innovation, research and clinical excellence. The hospital's cardiac ventricular assist device (VAD) program was among the first in the region to receive Joint Commission Certification, and the hospital is routinely ranked among the nation's top medical centers for survival rates among heart transplant patients. Most recently, Healthgrades listed AGH as one of the country's top hospitals for overall cardiac care and cardiac surgery, and the Society of Thoracic Surgeons has recognized AGH with its highest 3-star transcatheter aortic valve replacement (TAVR) program rating.
In September, AHN also announced that six of its hospitals received the AHA Get With The Guidelines®-- Heart Failure Achievement Award. Including AGH, all facilities earned Gold Plus designations, the highest level of achievement and a milestone for the Network's heart program.
The AHN Cardiovascular Institute offers a multi-disciplinary care approach that focuses on prevention, management and treatment of highly-complex cardiovascular conditions. All AHN heart patients are prescribed tailored, disease specific treatment plans that best meet their needs, including holistic ancillary services like wellness programs, nutrition counseling and cardiac rehabilitation.
"We congratulate Allegheny General Hospital for its outstanding achievement of Comprehensive Cardiac Center Certification," said Nancy Brown, chief executive officer, the American Heart Association. "This certification, along with its other recent accolades from the AHA, reflects AGH's continued commitment to providing the highest quality of care for cardiac patients."
An independent, not-for-profit organization, The Joint Commission accredits and certifies over 22,000 health care organizations and programs in the United States. Joint Commission accreditation and certification is recognized nationwide as a symbol of quality that reflects an organization's commitment to meeting certain performance standards.
For more information, please visit The Joint Commission website.
About the Allegheny Health Network:
Allegheny Health Network (AHN.org), a Highmark Health company, is an integrated healthcare delivery system serving the greater Western Pennsylvania region. The Network is composed of 13 hospitals, ambulatory surgery centers, Health + Wellness Pavilions, an employed physician organization, home and community-based health services, a research institute, and a group purchasing organization. The Network provides patients with access to a complete spectrum of advanced medical services, including nationally recognized programs for primary and emergency care, trauma care, cardiovascular disease, organ transplantation, cancer care, orthopedic surgery, neurology and neurosurgery, women's health, diabetes, autoimmune disease and more. AHN employs approximately 21,000 people, has more than 2,500 physicians on its medical staff and serves as a clinical campus for Drexel University College of Medicine and the Lake Erie College of Osteopathic Medicine.