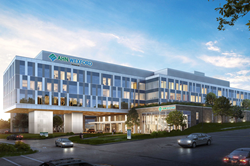 WEXFORD, Pa. (PRWEB) August 15, 2018
Allegheny Health Network (AHN) and Highmark Health officials today broke ground on a new full-service hospital in Pine Township that will bring a wide spectrum of advanced, patient-centered health care services to the residents of Pittsburgh's northern suburbs.
Expected to open in 2021, AHN Wexford Hospital will offer comprehensive women and infant care, including labor and delivery services; advanced cardiac, neurosurgical, orthopaedic, and cancer care; a 24-room Emergency Department and short-stay observation unit featuring pediatric rooms; an adult intensive care unit (ICU); operating rooms that provide minimally invasive robotic surgical capabilities; 160 all-private inpatient rooms; and a host of other patient- and family-friendly clinical programs, amenities, and services.
AHN Wexford Hospital will be connected to AHN's Wexford Health + Wellness Pavilion on Perry Highway (U.S. Route 19). The 345,000-square-foot facility will be the single-largest investment in AHN's history and is expected to employ more than 500 health care professionals.
"AHN Wexford Hospital is one of the biggest and boldest examples of Highmark Health and Allegheny Health Network's commitment to investing in new and upgraded facilities across the western Pennsylvania region, as we continue to work to get health care right by delivering high-quality and high-value services to our patients and members," said David Holmberg, Highmark Health President and CEO.
AHN Wexford will serve an area with a combined population of more than 215,000 people living in Pine, McCandless, Cranberry, Mars, Gibsonia, Allison Park, Zelienople, West View, and surrounding communities. Currently, a significant majority of those residents leave their communities to access the services the new hospital will provide.
"Enhancing access to care is a cornerstone of our strategy for how we can best meet the needs of patients in every community that we serve," said Cynthia Hundorfean, AHN President and CEO. "We believe that when you provide patients with the best possible health care experience, including high-quality care options that are closer to home, their outcomes are better and their overall quality of life is better. And that's the promise we intend to fulfill in Wexford with the opening of this uniquely designed, beautiful new hospital."
AHN made its first significant footprint in the region's northern suburbs with the October 2014 opening of its 174,000-square-foot Wexford Health + Wellness Pavilion, which offers a range of primary care, specialty, and outpatient services. The Pavilion will remain open throughout the construction of the new hospital, and once it opens the two facilities will be fully integrated to form a medical campus that provides the full continuum of care – emergency, inpatient, outpatient, and rehabilitation.
"We are incorporating an intuitive, patient-centered design at AHN Wexford that fosters a highly positive and comforting experience from the moment patients arrive to the time of their discharge," explained Allan Klapper, MD, President of AHN Wexford Hospital and Chair of the AHN Women and Children Institute. "Every aspect of their visit will make it feel like the hospital was built for them, including the convenience of free self-parking and complimentary valet parking, the hotel-like, concierge services throughout the facility, and a full range of programs and resources to improve their health and well-being."
For those entering through the Emergency Department, a fast-track, bedside registration process will allow patients to bypass the ED waiting area for expedited care. For expectant women and their families, the hospital will be a destination of choice for high-quality obstetrical care, in addition to the many other services a woman may need throughout her lifetime.
"Women in the North Hills will be able to stay close to home to deliver their babies as well as to receive a range of sub-specialty services," said Dr. Klapper. "AHN Wexford Hospital will feature a broad range of OB-GYN care, high-risk obstetrics, minimally invasive gynecology surgery, gynecologic oncology, urogynecology, and menopausal management – right here in their own community."
AHN Wexford Hospital's spacious labor and delivery suites will feature up-to-date technology, modern Cesarean suites, and fast access to advanced neonatal and high-risk pregnancy services when needed. Premature and special needs babies will receive high-quality, compassionate care in a specialized, Level II nursery offering in-room sleeping accommodations for families. And a soothing outdoor terrace garden will provide a relaxing pre- and post-delivery atmosphere for expectant mothers and new families.
The patient- and family-centered model at AHN Wexford also will extend to the hospital's patient rooms, which are designed to put a variety of controls right at the patient's fingertips. That includes the room's temperature and lighting; a full room-service menu with physician-approved dining options specific to the patient; bedside access to the patient's electronic health record as well as telemedicine and remote monitoring; the ability to reach out directly to the clinical team via text message instead of a traditional call button; and a TV that also serves as an interactive video board to keep the patient and family updated on the patient's daily care schedule and care team.
AHN Wexford also will feature an outdoor courtyard connecting it to the Health + Wellness Pavilion, as well as a conference facility available for community use.
HKS is the architect on the project, with Gilbane/Massaro the lead construction partner.
###
About the Allegheny Health Network
Allegheny Health Network (http://www.AHN.org), a Highmark Health company, is an integrated healthcare system serving the greater Western Pennsylvania region. The Network is composed of eight hospitals, including Allegheny General Hospital, its flagship academic medical center in Pittsburgh, Allegheny Valley Hospital in Natrona Heights, Canonsburg Hospital in Canonsburg, Forbes Hospital in Monroeville, Jefferson Hospital in Jefferson Hills, Saint Vincent Hospital in Erie, West Penn Hospital in Pittsburgh and Westfield Memorial Hospital in Westfield, NY. The Network provides patients with access to a complete spectrum of advanced medical services, including nationally recognized programs for primary and emergency care, cardiovascular disease, cancer care, orthopedic surgery, neurology and neurosurgery, women's health, diabetes and more. It also is home to a comprehensive research institute; Health + Wellness Pavilions; an employed physician organization, home and community based health services and a group purchasing organization. The Network employs approximately 19,000 people, has more than 2,400 physicians on its medical staff and serves as a clinical campus for Drexel University College of Medicine, Temple University School of Medicine, and the Lake Erie College of Osteopathic Medicine.