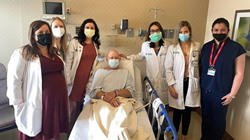 "It's critical to recognize the lifesaving gifts from our donors and their families which make our organization's remarkable efforts possible," said Dr. Bailey.
PITTSBURGH (PRWEB) February 15, 2023
Allegheny Health Network's (AHN) Cardiovascular Institute reached a significant milestone in cardiac transplantation when heart failure specialists and cardiothoracic surgeons, led by Candice Lee, MD, performed the 500th heart transplant at Allegheny General Hospital (AGH) in Pittsburgh on Saturday, January 14. The patient, Keith Lowry, 68, of Dunbar, Pa is recovering well from the procedure.
AGH joins just three other transplant centers in Pennsylvania to reach this milestone, and it is now one of fewer than 70 medical centers nationwide to have performed 500 or more heart transplants. Nationally, there are more than 200 hospitals that have completed at least one adult or child heart transplantation procedure.
"I'm extremely proud to be part of such an elite team of clinicians and caregivers, who work so hard to make transplantation possible. Our recent milestone is a testament to the flexibility and skill of our coordinators, nurses, and physicians, and our partners at the Center for Organ Recovery and Education," said Stephen Bailey, MD, heart transplant surgeon and chair of AHN Cardiovascular Institute. "Most importantly, it's critical to recognize the lifesaving gifts from our donors and their families, which make our organization's remarkable efforts possible."
Center for Organ Recovery and Education (CORE) is not-for-profit organ procurement organization serving western Pennsylvania and West Virginia by partnering with academic medical centers, like AGH, to successfully coordinate surgical transplant procedures.
"Today we're celebrating not just 500 heart transplants, we're celebrating 500 lives saved – 500 mothers, fathers, sons, daughters, spouses and friends who were able to live another day because of the AGH transplant team, and the selfless donors and their courageous families who, over the years, made the powerful decision to give the gift of life. CORE is truly honored to have played a role in such a historic milestone." said Susan Stuart, President and CEO, CORE.
The heart transplant program at AGH was developed beginning in 1985, under the clinical direction of George J. Magovern Jr., MD, cardiothoracic surgeon. Two years later, Dr. Magovern and his team performed the hospital's first heart transplant. Today, AGH is routinely ranked among the nation's top medical centers for three-year survival rates in adult heart transplant patients, according to data from the Scientific Registry of Transplant Recipients (SRTR). For those on the transplant waiting list, AGH also maintains a zero percent mortality rate, the best in Pennsylvania.
"Our high level of patient referrals, and consistent accolades, reflect the exceptional quality of care we continue to provide to those dealing with end-stage heart failure. On behalf of the entire Institute, it is always a privilege to give recipients a second chance at life and honor the ultimate gift from our donors," said Dr. Lee.
A key factor in AGH's impressive transplant survival rate is the post-operative care management provided by the transplant center's cross-specialty heart failure team. The 500th case was led by cardiologist Manreet Kanwar, MD, Co-Director of the Division of Heart Failure and Pulmonary Hypertension Division at the AHN CVI. Dr. Kanwar is a nationally renowned physician in heart failure, cardiac transplantation, mechanical circulatory support, and pulmonary hypertension. She came to AGH in 2011 and has since been instrumental to the heart transplant program's success.
"The Cardiovascular Institute is also a leading center for the placement and management of left ventricular assist devices (LVADs), which are mechanical pumps that replace the function of a failing heart and serve as either destination therapy or a bridge to transplant," said Dr. Kanwar. "Medication management and cardiac rehabilitation are also critical components of a heart failure patient's care journey, and our physicians have earned recognition for their excellence in both of these categories, as well."
Most recently, the clinical team earned the Joint Commission's Gold Seal of Approval© for Comprehensive Cardiac Center Certification making AGH one of just 13 medical centers in the United States to receive this prestigious designation.
"For years, the CVI at AHN has been synonymous with pioneering, leading-edge capabilities for diagnosing and treating complex cardiovascular diseases," said Dr. Bailey. "Milestones like this and all of our quality accolades further demonstrate how the CVI, AHN and Highmark Health are making good on our Living Health promise, enabling our patients to live their best lives by providing them with innovative medical and surgical solutions and outstanding all around care experiences."
For more information on the AHN Cardiovascular Institute, visit ahn.org. To learn more about organ donation or to register, visit core.org.
About the Allegheny Health Network:
Allegheny Health Network (AHN.org) is an integrated healthcare delivery system serving the greater Western Pennsylvania region. The Network is composed of 14 hospitals, ambulatory surgery centers, Health + Wellness Pavilions, multiple employed physician organizations, home and community based health services, a research institute, and a group purchasing organization. The Network provides patients with access to a complete spectrum of advanced medical services, including nationally recognized programs for primary and emergency care, trauma care, cardiovascular disease, organ transplantation, cancer care, orthopedic surgery, neurology and neurosurgery, women's health, diabetes, autoimmune disease and more. AHN employs approximately 22,000 people, has more than 2,600 physicians on its medical staff and serves as a clinical campus for Drexel University College of Medicine and the Lake Erie College of Osteopathic Medicine.
About CORE
The Center for Organ Recovery & Education (CORE) is one of 57 federally designated not-for-profit organ procurement organizations (OPOs) in the United States, serving more than five million people in western Pennsylvania and West Virginia. CORE coordinates the recovery and matching of organs, tissues and corneas for transplant within our service region, and works tirelessly to create a culture of donation within the hospitals and communities we serve. CORE's mission is to Save and Heal lives through donation, ultimately ending the deaths of those on the transplant waiting list, while maintaining integrity for the donation process, dignity for the donors, and compassion for their families. CORE is a winner of the 2019 Malcolm Baldrige National Quality Award, a presidential award that recognizes nonprofits for their innovation and excellence. For more information, visit http://www.core.org/ call 1-800-DONORS-7.