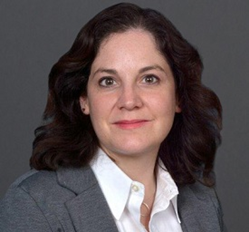 "Dr. Cuevas is extremely well-suited to lead this team of heroic caregivers, and we look forward to her many contributions as Division Chief."
PITTSBURGH (PRWEB) December 04, 2020
Allegheny Health Network (AHN) has named Elizabeth Cuevas, MD, as Division Chief of its Center for Inclusion Health. A board-certified internal medicine physician, Dr. Cuevas most recently served as Division Chief of Academic Internal Medicine at AHN, as well as Director of Primary Care Transformation for the Internal Medicine Residency Clinics.
As part of Dr. Cuevas' nearly 10-year tenure with AHN, she was instrumental in launching the Center for Inclusion Health (CIH) in 2014. CIH was established as one of the nation's first programs focused on meeting the comprehensive health needs of patients from underserved or marginalized populations.
Since its inception, the Center has significantly grown in the number of caregivers that are dedicated to delivering a coordinated and compassionate care delivery model using evidence-based interventions, as well as expanded programs to address heath issues and health care barriers such as addiction, food insecurity, HIV/AIDS, homelessness, immigrant/refugee health and transgender health. As Division Chief, Dr. Cuevas will work to ensure consistent delivery of CIH's mission to provide compassionate, accessible care to the region's high-risk patients.
Stuart Fisk, CRNP, who has served as the Center's director for the past six years, has taken on the role of Director of Strategic Operations for CIH. Patrick Perri, MD, will continue to serve as the center's Medical Director and lead the Program for Homeless and Urban Poverty Medicine.
"This year, many of us have developed a deeper sense of appreciation for the selfless, courageous ways in which caregivers serve our communities. I am confident that this level of appreciation has long been held by those who utilize the many extraordinary services provided by the Center for Inclusion Health," said Susan Manzi, MD, Chair, AHN Medicine Institute. "Dr. Cuevas is extremely well-suited to lead this team of heroic caregivers, and we look forward to her many contributions as division chief."
A University of Notre Dame graduate, Dr. Cuevas received her medical degree from the University of Pittsburgh in 2001. She completed her internship and residency training in internal medicine at Massachusetts General Hospital. While in Boston, she also served as a medical director in the Boston Health Care for the Homeless Program.
To learn more about the AHN Center for Inclusion Health, visit http://www.ahn.org/services/medicine/center-for-inclusion-health.
###
About Allegheny Health Network
Allegheny Health Network (AHN.org), a Highmark Health company, is an integrated healthcare delivery system serving the greater Western Pennsylvania region. The Network is composed of 13 hospitals, ambulatory surgery centers, Health + Wellness Pavilions, an employed physician organization, home and community based health services, a research institute and a group purchasing organization. The Network provides patients with access to a complete spectrum of advanced medical services, including nationally recognized programs for primary and emergency care, cardiovascular disease, cancer care, orthopedic surgery, neurology and neurosurgery, women's health, diabetes and more. AHN employs approximately 21,000 people, has more than 2,500 physicians on its medical staff and serves as a clinical campus for Drexel University College of Medicine and the Lake Erie College of Osteopathic Medicine.