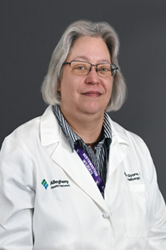 Dr. Gyure is an outstanding health care professional and we are excited to be moving forward with her at the helm of our pathology program.
PITTSBURGH (PRWEB) December 06, 2019
Allegheny Health Network (AHN) has named Kymberly Gyure, MD, Chair of the AHN Pathology Institute.
Dr. Gyure, who joined AHN from WVU Medicine in May 2018, previously served as AHN's Vice Chair of Pathology and Laboratory Medicine, and Director of Anatomic Pathology. She has served as interim chair since October and is also part of the pathology faculty at Drexel University College of Medicine.
Dr. Gyure spent 13 years at the West Virginia University School of Medicine and WVU Medicine, serving in both leadership and academic positions. Before that, she was on staff at the University of Maryland School of Medicine and its related medical system. Her research interests include the areas of neuropathology and surgical pathology.
"Dr. Gyure is an outstanding health care professional and we are excited to be moving forward with her at the helm of our pathology program," said Donald Whiting, MD, AHN Chief Medical Officer. "We look forward to the continuing success and growth of this critical component of our health system under her leadership."
As chair of the Institute, Dr. Gyure now oversees more than 50 employed or affiliated physicians, Ph.D. scientists, residents and fellows, in addition to the network's laboratory teams staffed by highly experienced specialists including chemists, microbiologists, cytogeneticists and many more. She holds responsibility for the diagnostic services provided at the network's eight hospitals, Core Laboratory and outpatient centers. In total, the Institute performs more than 5.5 million clinical laboratory tests annually and examines approximately 150,000 surgical and cytology specimens.
Dr. Gyure received a bachelor's degree in mathematics from Northwestern University, a medical degree from the Medical College of Ohio at the University of Toledo and an academic healthcare administration certificate in financial management from the WVU College of Business and Economics. Her post-graduate medical training includes a residency in anatomic and clinical pathology at Cleveland Clinic and fellowships in neuropathology at the Armed Forces Institute of Pathology, and the Children's Hospital of Philadelphia.
Among Dr. Gyure's numerous professional affiliations are memberships in the American Association of Neuropathologists, the International Society of Neuropathology, the United States and Canadian Academy of Pathology, and the Allegheny County Medical Society. She had previously served as the president of the West Virginia Association of Pathologists.
About the Allegheny Health Network
Allegheny Health Network (http://www.AHN.org), a Highmark Health company, is an integrated healthcare delivery system serving the greater Western Pennsylvania region. Among the network's 250 clinical locations are eight hospitals — Allegheny General Hospital, its flagship academic medical center in Pittsburgh; Allegheny Valley Hospital in Natrona Heights, Pa.; Canonsburg Hospital in Canonsburg, Pa.; Forbes Hospital in Monroeville, Pa.; Jefferson Hospital in Jefferson Hills, Pa.; Saint Vincent Hospital in Erie, Pa.; West Penn Hospital in Pittsburgh; and Westfield Memorial Hospital in Westfield, NY. AHN also is home to a comprehensive research institute; Health + Wellness Pavilions; home- and community-based health services; and a group purchasing organization. The network employs 20,000 people and has more than 2,400 doctors on its medical staff. Established in 2013, AHN's member hospitals share legacies of charitable care that date back more than 160 years.