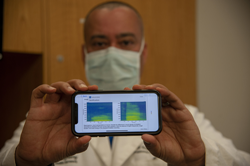 "We are hopeful that voice analysis may provide valuable information that could help doctors recognize oncoming distress and quickly get patients the treatment they need, potentially preventing critical illness."Anil C Singh, MD, MPH, MMM, FCCP, Allegheny Health Network and Highmark Health
PITTSBURGH (PRWEB) April 30, 2020
Innovative Voice-based Diagnostic Technology May Help Detect Infection, Provide Clues on Whether a Patient's Illness is About to Advance to a Critical Stage
Does the speech of a person infected with COVID-19 show unique vocal sounds, features and patterns – and do they change as the illness progresses? That's the hypothesis of a new research study led by Allegheny Health Network (AHN) and Pittsburgh-based voice diagnostic startup Telling.ai – and what they discover could change how COVID-19 and other novel coronaviruses are detected and monitored in the future.
Since the first cases of COVID-19 were identified in China in late 2019, and in the United States in early 2020, the coronavirus has proved to be a formidable adversary, causing severe acute respiratory distress and progressing in varied and unpredictable ways. Some patients have reported initial mild symptoms, followed by a feeling of wellness, and then the sudden appearance of severe respiratory symptoms.
Anil C Singh, MD, MPH, MMM, FCCP, System Director, Pulmonary/Critical Care/Allergy-Immunology/Sleep at AHN and Executive Medical Director, Clinical Transformation Office, Highmark Health, and his collaborators at Telling.ai believe that voice analysis could provide clues on whether a COVID-19 infection is about to progress to a severe illness that may require hospitalization – or even detect COVID-19 infection in asymptomatic patients. All monitoring could be done remotely, further reducing the possibility of infection spread.
"For physicians treating COVID-19 infection, one of the most difficult questions has been determining when a patient needs hospitalization," Dr. Singh said. "We are hopeful that voice analysis may provide valuable information that could help doctors recognize oncoming distress and quickly get patients the treatment they need, potentially preventing critical illness. It could also allow patients whose illness is not likely to worsen to stay home, decreasing the risk of exposure to others."
The collaboration between Dr. Singh and Telling.ai began before the emergence of COVID-19, studying whether analysis of voice recordings could replace lengthy lung function tests in people with chronic obstructive pulmonary disease (COPD). Initial results are showing a near 1-to-1 correlation between results of the traditional lung function test and testing done by analyzing voice recordings.
The emergence of COVID-19 redirected this promising research – and Dr. Singh and the researchers at Telling.ai are now exploring how voice analysis might play a role in improving detection and treatment of the novel coronavirus.
"The ability to deliver instantaneous, accurate insights about respiratory health over the phone has the potential to save lives," said Telling.ai co-founder and CEO Raj Dhaka. "Telling.ai's algorithms demonstrate the very strong correlation between voice sounds and widely accepted lung function metrics. By donating their voice samples, patients suspected of having COVID-19 may help us open a new front in the war to detect and treat the infection."
The research is open only to AHN patients who are receiving a physician-ordered test for COVID-19. They will provide voice samples using a website accessed via their smartphones or other devices. If they subsequently test positive for COVID-19, they will report their symptoms and provide additional voice samples over a 30-day period. The researchers will examine how changes in the voice samples correlate with the patients' symptoms, visits to an emergency department or physician appointments. The results will not impact the care they receive.
If the results are promising, Dr. Singh and Telling.ai will design a clinical trial for FDA approval, opening the way for broader use of the technology.
About the Allegheny Health Network:
Allegheny Health Network (AHN.org), a Highmark Health company, is an integrated healthcare delivery system serving the greater Western Pennsylvania region. The Network is composed of 12 hospitals, ambulatory surgery centers, Health + Wellness Pavilions, an employed physician organization, home and community-based health services, a research institute, and a group purchasing organization. The Network provides patients with access to a complete spectrum of advanced medical services, including nationally recognized programs for primary and emergency care, trauma care, cardiovascular disease, organ transplantation, cancer care, orthopedic surgery, neurology and neurosurgery, women's health, diabetes, autoimmune disease and more. AHN employs approximately 21,000 people, has more than 2,500 physicians on its medical staff and serves as a clinical campus for Drexel University College of Medicine, Temple University School of Medicine, and the Lake Erie College of Osteopathic Medicine.
About Telling.ai
Telling.ai is transforming respiratory care by developing technology to diagnose and monitor lung diseases and infections through analysis of voice and breath sounds. This capability will be a foundational tool for healthcare providers currently struggling to manage care for the over 70 million Americans and 1 billion people who suffer from chronic or acute respiratory disease around the world and it will be accessible to anyone with access to a mobile phone.
Telling.ai is a venture-backed company led by experienced entrepreneurs along with leading researchers from the Carnegie Mellon School of Computer Science and Language Technology Institute. For more information, visit https://telling.ai.