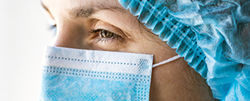 This year, it's our turn to say thank you to all of those who have stepped up in such a big way to support our network's response to this public health crisis.
PITTSBURGH (PRWEB) September 22, 2020
For the countless ways in which the community has generously supported Allegheny Health Network (AHN) throughout the COVID-19 pandemic, the network is launching a weeklong 'Gratitude Campaign' to express its appreciation.
Beginning on Monday, September 21, which is observed annually as 'World Gratitude Day,' AHN employees will deliver messages of gratitude to donors and the community via print, digital and broadcast media across Western Pennsylvania, as well as onsite at the network's hospitals. In line with the campaign theme, "when we need you most," the messages will convey the many ways in which the community has supported AHN.
Since the novel coronavirus began impacting the greater western Pennsylvania region last March, more than $4 million in monetary and in-kind donations has been received to the AHN COVID-19 Assistance Fund in support of its many caregivers who have been on the frontlines of the pandemic response.
"As difficult as the pandemic has been at times on our organization and its dedicated caregivers, the love and appreciation we have felt from our communities has been truly amazing and inspiring," said Cynthia Hundorfean, AHN President and CEO. "From the many donations we have received, both large and small, to the countless acts of kindness and compassion for our staff by individuals, local businesses and other groups, every single gesture has made a difference and reminds us why we are so blessed to be part of this wonderful community."
Among the many contributions made to AHN and its caregivers over the last several months include more than 500,000 pieces of personal protective equipment such as surgical masks, N95 respirators, medical gloves, and gowns; more than 200,000 meals and 800,000 snacks and treats for caregivers and staff; 20 massage chairs for onsite serenity rooms designed to provide clinicians a place of respite; and several other items such as hand-sewn fabric masks, care packages, phone chargers, waist packs, clothing, face wipes and more. AHN has also received thousands of greeting cards and phone calls with messages of encouragement.
In addition, when AHN asked the community last spring to help slow the spread of the virus and 'flatten the curve' of COVID-related cases at its hospitals, individuals and families across the region joined the #stayHOMEteam campaign without hesitation. They posted countless photos on social media using the hashtag, and displayed campaign signs at their homes. Individuals are now pledging to help the community stay healthy, as part of the network's #staySAFEteam campaign.
"While the COVID-19 crisis has posed significant challenges and hardships for so many, it has also shown the true spirit of our region which is one of solidarity and kindness," said Allie Quick, AHN Chief Philanthropy Officer.
"Each year, hundreds of people and organizations express their gratitude for AHN's life-saving and life-changing health care services by generously supporting us at our gala, golf outings and other network fundraisers. This year, it's our turn to say thank you to all of those who have stepped up in such a big way to support our network's response to this public health crisis."
To learn more, visit http://www.ahn.org/grateful.
###
About the Allegheny Health Network
Allegheny Health Network (AHN.org), a Highmark Health company, is an integrated healthcare delivery system serving the greater Western Pennsylvania region. The Network is composed of 10 hospitals, ambulatory surgery centers, Health + Wellness Pavilions, an employed physician organization, home and community based health services, a research institute and a group purchasing organization. The Network provides patients with access to a complete spectrum of advanced medical services, including nationally recognized programs for primary and emergency care, cardiovascular disease, cancer care, orthopedic surgery, neurology and neurosurgery, women's health, diabetes and more. AHN employs approximately 21,000 people, has more than 2,500 physicians on its medical staff and serves as a clinical campus for Drexel University College of Medicine and the Lake Erie College of Osteopathic Medicine.