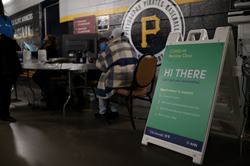 PITTSBURGH (PRWEB) February 25, 2021
Continuing with Allegheny Health Network's (AHN) and Highmark Health's commitment to expanding access to COVID-19 vaccination for residents of the greater western Pennsylvania community, AHN will host large-scale, first-dose COVID-19 vaccination clinics today and tomorrow at PNC Park.
A total of more than 6,000 patients who fall in the Pennsylvania Department of Health's Phase 1A have already been pre-registered to receive the vaccine at these two clinics. The clinics are open only to those who have already been scheduled to receive the vaccine. No walk-ins will be accepted.
The vaccine clinics will be held in the Home Plate Club at PNC Park.
As part of AHN's efforts to reach all members of the community with the vaccine, a number of deaf individuals will be vaccinated at this Friday's clinic and will be guided through the experience by seven sign language interpreters from Sign Language Interpreting Professionals.
Following these two clinics, AHN will have vaccinated more than 12,000 individuals at PNC Park – all of whom will return to the ballpark to receive their second dose of the vaccine. Recipients who received the vaccine at the first clinic at PNC Park, held on February 6, will return this Saturday to receive their second dose. Recipients at today's and Friday's clinics will return on March 18 and 19.
With the continuing limited supply of the COVID-19 vaccine, AHN is currently holding appointment-only vaccination clinics. As vaccine supply is available for scheduling, high-risk patients who have an AHN MyChart account will be alerted, and the Network will activate its online scheduling portal for those who are eligible to receive the vaccine based on the Department of Health's eligibility phases. To ensure both speed an equitable distribution of the vaccine, AHN will continue to target the most vulnerable populations, including marginalized communities which have been most acutely impacted by the pandemic.
About Allegheny Health Network
Allegheny Health Network (AHN.org), a Highmark Health company, is an integrated healthcare delivery system serving the greater Western Pennsylvania region. The Network is composed of 13 hospitals, ambulatory surgery centers, Health + Wellness Pavilions, an employed physician organization, home and community based health services, a research institute and a group purchasing organization. The Network provides patients with access to a complete spectrum of advanced medical services, including nationally recognized programs for primary and emergency care, cardiovascular disease, cancer care, orthopedic surgery, neurology and neurosurgery, women's health, diabetes and more. AHN employs approximately 21,000 people, has more than 2,500 physicians on its medical staff and serves as a clinical campus for Drexel University College of Medicine and the Lake Erie College of Osteopathic Medicine.