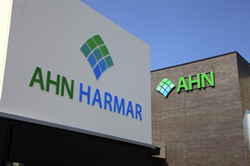 "The opening of AHN Harmar marks another significant milestone in our journey to make high-quality emergency care more accessible to our patients regardless of where they live."
HARMAR, Pa. (PRWEB) September 23, 2020
Allegheny Health Network (AHN) officials today joined community leaders to celebrate the planned opening of a new neighborhood hospital in Harmar Township. The facility is the fourth of its kind that AHN and joint venture partner Emerus have constructed across the Western Pennsylvania region this year. The other AHN neighborhood hospitals, now open to patients, are located in Hempfield Township, McCandless Township and Brentwood.
Located at 2501 Freeport Road, AHN Harmar will be a fully licensed hospital that provides 24/7 access to emergency care. Staffed by board-certified physicians, nurses and other experienced health care professionals, the facility houses a full-service emergency department and a 10-bed inpatient unit for observation and short-stay use.
AHN Harmar is expected to officially open to patients in the coming weeks, pending licensing by the state.
"The opening of AHN Harmar marks another significant milestone in our journey to make high-quality emergency care more accessible to our patients regardless of where they live," said Cynthia Hundorfean, AHN President and CEO. "We look forward to delivering the same exceptional health care experience to residents of the Allegheny Valley region that we are already providing at our Hempfield, McCandless and Brentwood Neighborhood Hospital locations."
Among numerous patient-friendly design elements in the new hospital, the nearly 25,000-square-foot facility features nursing stations uniquely configured to maximize sightlines and accessibility, allowing staff to easily monitor exam rooms and minimize response times. Advanced CT and X-ray procedure rooms will accommodate patients of any age, with adjacent observation rooms that keep families together during procedures. An onsite lab will expedite testing results for patients.
AHN Harmar will also be integrated into AHN's EPIC electronic health record, allowing medical records to be accessed and shared seamlessly for effective care coordination.
"Patients at AHN Harmar will receive the same high level of clinical expertise and technological sophistication available in the emergency departments and inpatient observation units of every AHN hospital," said Tom Campbell, MD, Chair, AHN Emergency Medicine Institute.
AHN's Outpatient Center in the Waterworks Mall on Freeport Road is located a few miles south of AHN Harmar, and AHN's Allegheny Valley Hospital is located just north of Harmar in Natrona Heights. Together, the three facilities will offer patients who live in the area a broad scope of closely integrated, close-to-home emergency, inpatient and outpatient services.
AHN's neighborhood hospitals are part of a joint venture between AHN and Emerus – the nation's leading developer and operator of neighborhood hospitals. Emerus has routinely received the prestigious Press Ganey Guardian of Excellence Award which recognizes the country's best-performing health care organizations that have consistently achieved the top 95th percentile or above for exceptional patient experience.
###
About AHN
Allegheny Health Network (http://www.AHN.org), a Highmark Health company, is an integrated healthcare delivery system serving the greater Western Pennsylvania region. Among the network's 250 clinical locations are eight hospitals — Allegheny General Hospital, its flagship academic medical center in Pittsburgh; Allegheny Valley Hospital in Natrona Heights, Pa.; Canonsburg Hospital in Canonsburg, Pa.; Forbes Hospital in Monroeville, Pa.; Jefferson Hospital in Jefferson Hills, Pa.; Saint Vincent Hospital in Erie, Pa.; West Penn Hospital in Pittsburgh; and Westfield Memorial Hospital in Westfield, NY. AHN also is home to a comprehensive research institute; Health + Wellness Pavilions; home- and community-based health services; and a group purchasing organization. The network employs 20,000 people and has more than 2,400 doctors on its medical staff. Established in 2013, AHN's member hospitals share legacies of charitable care that date back more than 160 years.
About Emerus
Emerus is the nation's first and largest operator of neighborhood hospitals. Emerus partners with leading health systems to provide excellence, empathy and innovation in health care delivery through a network of efficient, value-based neighborhood hospitals and acute care facilities. The Emerus network brings high-quality, patient-centric acute episodic and ambulatory clinical services to communities across a given market. This helps patients by positioning best-in-class provider services in the communities where they work, live and play. Emerus' distinctive level of care earned the Guardian of Excellence Award for Superior Patient Experience in 2013, 2014, 2015, 2016, 2017 and 2019. More information is available at http://www.emerus.com.