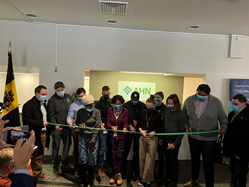 "Demonstrating the role that a health care system can play in community empowerment and linkage to care, the community outreach hubs will provide a dignified setting for engagement and continued supportive relationships between our teams and those with whom we work."
PITTSBURGH (PRWEB) November 24, 2021
Marking a significant next step in an ongoing partnership to provide more robust support services to individuals with unmet health and wellness needs in Pittsburgh communities, AHN's Urban Health & Street Medicine program and the City of Pittsburgh's Office of Community Health & Safety today announced plans to open three community outreach hubs across the City over the next several months. Officials cut the ribbon today to the first hub which is located in Downtown Pittsburgh at 538 Smithfield Street.
Since launching in the spring of 2021, the Urban Health & Street Medicine program's three street outreach teams have worked with more than 1,000 unique individuals across Pittsburgh at the intersection of homelessness, substance use and untreated mental health issues. With the opening of these community outreach hubs, the AHN teams will have centralized spaces to follow up with and care for those individuals and others in the future.
"While working alongside community members who often face a range of barriers within the housing, health care and criminal legal systems, our teams have recognized the need for designated spaces – free of discrimination and stigma – in which individuals can receive care and assistance as they navigate these systems," said Dan Palka, administrative director, Urban Health & Street Medicine at AHN's Center for Inclusion Health. "Demonstrating the role that a health care system can play in community empowerment and linkage to care, the community outreach hubs will provide a dignified setting for engagement and continued supportive relationships between our teams and those with whom we work."
AHN's community outreach teams, which include trained professionals serving as homeless services team leads, outreach specialists and community health workers, will work at the hubs to connect individuals with social services and housing resources, and will assist them in accessing and navigating needed health care services. The hubs will not function as homeless shelters, soup kitchens or drop-in centers.
The community outreach teams receive clinical support from a variety of partners including Federally Qualified Health Centers (FQHCs), community behavioral health organizations, Allegheny County Health Department and the Center for Inclusion Health's array of specialized health services. The hubs will provide a low-barrier engagement space for these partners' vital services.
In addition to the location in Downtown Pittsburgh, which will operate on weekdays from 8:30 a.m. – 4:30 p.m., two other community outreach hubs will open in the North Side and in East Liberty in the coming weeks and months.
A novel component of the partnership between AHN and the City of Pittsburgh is a collaboration with first responders known as the co-responder model. Traditionally, public safety agencies respond to calls to address the needs of those experiencing homelessness, problematic substance use and/or unaddressed mental health issues. Now, AHN's street outreach teams are available to co-respond to such calls when requested by police officers, effectively integrating real-time social services supports into the emergency response process. The AHN teams have responded to more than 500 calls from police for assistance to date.
The community outreach hubs will support the co-responder model by serving as a central station for individuals who might otherwise be charged for low-level offenses. In line with a concept known as 'Law Enforcement-Assisted Diversion' (LEAD), police officers may transport an individual to an outreach hub for case management and connection with upstream services, thereby preventing criminal legal involvement or incarceration.
The partnership between AHN and the City was initiated through 'Coronavirus Aid, Relief, and Economic Security (CARES) Act' funds that were awarded to AHN by the City. In June, Mayor William Peduto announced that the partnership would receive an additional $10 million in funding which will aid in the continued expansion of services to all six police zones across Pittsburgh.
"What Pittsburgh has done, through our partnership with Allegheny Health Network and creating the Office of Community Health and Safety, is design a unique model that addresses the needs of our communities and puts people first. We have plenty of incredible resources throughout our city, but this model addresses that we don't have to wait for people to seek out resources, we can bring the resources they need to them. We are already providing co-responders with public safety personnel through the Urban Health and Street Medicine program, and these new community outreach hubs will be easily accessible and provide sustainable, individualized support and resources. I thank AHN and OCH&S for their leadership and commitment and we look forward to our continued partnership," said Mayor William Peduto.
The AHN Urban Health & Street Medicine program is just the latest example of AHN's and Highmark Health's commitment to improving health equity in the greater western Pennsylvania region by addressing social determinants of health. Nearby the new AHN Community Outreach Hub is a 45,000-square-foot homeless shelter being constructed as a result of a partnership between Highmark Health, UPMC, PNC, the City of Pittsburgh and Allegheny County. The shelter is expected to open next year.
AHN's Center for Inclusion Health, part of the AHN Medicine Institute, was formed in 2014 as one of the nation's first comprehensive programs of its kind focused on meeting the health care needs of individuals in underserved or marginalized populations. Through a coordinated and compassionate care delivery model, and using evidence-based interventions, its programs address the obstacles that make it difficult for people to access care. This includes, but is not limited to, addiction, food insecurity, HIV/AIDS, homelessness, immigrant/refugee health and transgender health.
###
About Allegheny Health Network
Allegheny Health Network (AHN.org), a Highmark Health company, is an integrated healthcare delivery system serving the greater Western Pennsylvania region. The Network is composed of 14 hospitals, ambulatory surgery centers, Health + Wellness Pavilions, an employed physician organization, home and community-based health services, a research institute and a group purchasing organization. The Network provides patients with access to a complete spectrum of advanced medical services, including nationally recognized programs for primary and emergency care, cardiovascular disease, cancer care, orthopedic surgery, neurology and neurosurgery, women's health, diabetes and more. AHN employs approximately 21,000 people, has more than 2,600 physicians on its medical staff and serves as a clinical campus for Drexel University College of Medicine and the Lake Erie College of Osteopathic Medicine.