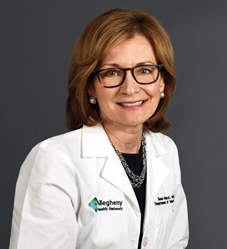 As a true asset to the rheumatology community, she could not be more deserving of this award.
PITTSBURGH (PRWEB) November 20, 2019
Allegheny Health Network's Susan Manzi, MD, MPH, is the recipient of the American College of Rheumatology's 2019 Distinguished Clinical Investigator Award. She was recently presented with the award at the American College of Rheumatology/Association of Rheumatology Professionals (ACR/ARP) Annual Meeting in Atlanta.
The meeting is attended by an estimated 16,000 participants from around the world. At this year's event, Dr. Manzi also had the honor of presenting the 'ACR: Year in Review' along with David S. Pisetsky, MD, PhD, Duke University Medical Center.
Chair of the Allegheny Health Network (AHN) Medicine Institute and Director of its Lupus Center of Excellence, Dr. Manzi is among an elite group of honorees including leading researchers, clinicians, mentors and other professionals who exhibit superior commitment to the advancement of the field of rheumatology.
Dr. Manzi is internationally known for her research and patient care in lupus, and has published more than 200 research reports on lupus and related diseases. Notably, she and her colleagues at the Lupus Center of Excellence helped design Avise-SLE™ – a blood test to help clinicians diagnose lupus with greater ease and accuracy. Her research program has been generously supported by organizations such as the National Institutes of Health (NIH), Department of Defense, Lupus Foundation of America and the Arthritis Foundation. Dr. Manzi has served on advisory boards for the FDA and more than 20 pharmaceutical and biotech companies, and has chaired or served on numerous NIH study sections and data safety monitoring boards.
At the AHN Autoimmunity Institute, based at West Penn Hospital, Dr. Manzi cares for patients from around the world who travel to Pittsburgh seeking her expertise in the diagnosis and management of autoimmune conditions. She works alongside a range of specialty clinicians to provide comprehensive patient-centered care.
Dr. Manzi also serves as Chair of the Lupus Foundation of America's national board of directors. For more than 15 years she served as a member of the Foundation's Medical-Scientific Advisory Council. As Medical Director for the Foundation, she led efforts to address gaps in education and the health care needs of people with lupus, and to advance the science and medicine of lupus.
"In addition to being a compassionate physician, insightful leader and devoted patient advocate, Dr. Manzi is a brilliant clinical scientist whose contributions have led to significant advancements in quality, innovation and best practices in the diagnosis and treatment of patients with autoimmune diseases," said Mary Chester Wasko, MD, MSc, Division Director, Rheumatology, AHN. "As a true asset to the rheumatology community, she could not be more deserving of this award."
Dr. Manzi graduated magna cum laude from the University of Notre Dame. She received her medical degree from the University of Pittsburgh School of Medicine, and completed a medical internship and residency at Duke University Medical Center. She completed her fellowship in rheumatology in Pittsburgh, and received a master's degree in public health from the University of Pittsburgh Graduate School of Public Health.
###
About the Allegheny Health Network
Allegheny Health Network (http://www.AHN.org), a Highmark Health company, is an integrated healthcare delivery system serving the greater Western Pennsylvania region. Among the network's 250 clinical locations are eight hospitals — Allegheny General Hospital, its flagship academic medical center in Pittsburgh; Allegheny Valley Hospital in Natrona Heights, Pa.; Canonsburg Hospital in Canonsburg, Pa.; Forbes Hospital in Monroeville, Pa.; Jefferson Hospital in Jefferson Hills, Pa.; Saint Vincent Hospital in Erie, Pa.; West Penn Hospital in Pittsburgh; and Westfield Memorial Hospital in Westfield, NY. AHN also is home to a comprehensive research institute; Health + Wellness Pavilions; home- and community-based health services; and a group purchasing organization. The network employs 20,000 people and has more than 2,400 doctors on its medical staff. Established in 2013, AHN's member hospitals share legacies of charitable care that date back more than 160 years.
About the American College of Rheumatology
The American College of Rheumatology (ACR) is an international medical society representing over 8,500 rheumatologists and rheumatology health professionals with a mission to empower rheumatology professionals to excel in their specialty. In doing so, the ACR offers education, research, advocacy and practice management support to help its members continue their innovative work and provide quality patient care. Rheumatologists are experts in the diagnosis, management and treatment of more than 100 different types of arthritis and rheumatic diseases.