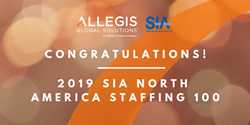 "I am honored to be included in the 2019 North America Staffing 100 because it is ultimately a recognition of the AGS commitment to transforming the way work gets done and of our innovation in the field." — Chad Lane, President of Allegis Global Solutions
HANOVER, Md. (PRWEB) February 26, 2019
Allegis Global Solutions (AGS), a leading provider of global talent acquisition and workforce solutions, is proud to announce the inclusion of two senior leaders from AGS in the 2019 North America Staffing 100 from Staffing Industry Analysts (SIA).

Chad Lane, President
Maria Boyse, Managing Director, Global Client Development
Chad and Maria were joined by three leaders from parent company Allegis Group (AG) and AG operating company TEKsystems:
Andy Hilger, President at Allegis Group
Jay Alvather, President, TEKsystems
Neil Bryson, Senior VP, Business Transformat at Allegis Group
The 2019 Staffing 100 list is how SIA recognizes people who create new models of work, drive efficiencies running companies, influence legislation and introduce technologies that change the way we work.
"I am honored to be included in the 2019 North America Staffing 100 because it is ultimately a recognition of the AGS commitment to transforming the way work gets done and of our innovation in the field." — Chad Lane, President of Allegis Global Solutions
For more information on Allegis Global Solutions and its industry-leading services, visit http://www.allegisglobalsolutions.com or follow @AllegisGlobal on Twitter.
###
About Allegis Global Solutions
Allegis Global Solutions is a leader in global talent solutions. To date, we support clients in more than 60 countries through regional hubs, matching our great people with businesses seeking to optimize their permanent and contingent workforce. We deliver scalable, flexible and customized solutions, shaped around your unique business requirements and culture. We draw upon decades of industry expertise and market insight to design strategies that work. We develop innovative tools, products and processes that deliver the results you seek. And we do all this better than anyone else.
Our passion for talent is the driving force behind everything we do. We live to match exceptional organizations with outstanding people. By creating a culture devoted to great talent, we can deliver client-focused solutions that make a difference for your business.