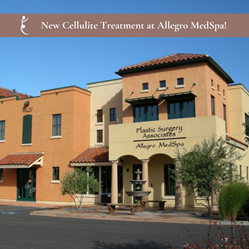 SANTA ROSA, Calif. (PRWEB) April 28, 2021
Allegro MedSpa announced today that their facility has been selected as one of only a few practices in Northern California chosen to debut Qwo™, the first and only FDA-approved injectable for moderate to severe cellulite in the buttocks of adult women.
With Qwo™, visible results can be achieved in 10 weeks with 3 treatments that are spaced 21 days apart. The non-surgical treatment is thought to work in 3 ways, including through the release of fibrous bands, redistribution of fat cells, and by stimulating the growth of new collagen.
"We are honored and excited to be one of a small group of practices in Northern California selected to introduce Qwo™." Read a joint statement by Allegro's group of board-certified plastic surgeons including Drs. Heather Furnas, Francisco Canales, and Eric Culbertson. "We take pride in offering our patients the best and safest options for all of their aesthetic needs. With the FDA's backing, Qwo™ has been proven a safe and effective solution for women seeking to reduce the look of cellulite."
Qwo™ is delivered via subcutaneous fat injection on each side of the buttocks by Allegro's expert injectors. Women coming in for treatment can expect the session to last from 10-15 minutes in which they receive up to a total of 12 injections per treatment area. Common side effects of Qwo™ include bruising, pain, possible areas that feel hard to the touch, itchiness or redness, discoloration, swelling and warmth in the areas where injections were received.
"This treatment has been studied more than any other similar cellulite treatment evaluated by the FDA." Continued the statement by doctors Furnas, Canales, and Culbertson. "Over 1800 women participated in the studies before receiving the first and only FDA stamp of approval for cellulite treatment. That says a lot and we see this becoming a very popular service for our clientele based on its safety, efficacy, and, quite frankly, how quickly it can all be done. In 3 appointments of 15 minutes each, we can achieve real transformation and help our patients achieve results that were previously out of reach."
Cellulite, or the appearance of dimpled flesh on thighs, buttocks, legs, and belly, is caused by a fat deposit underneath the skin. While weight loss and exercise can sometimes help reduce the appearance of cellulite, there is no known natural solution to eliminating its appearance. Qwo™ was developed to address this need, offering an effective solution for women looking to eliminate the look of cellulite in the buttocks. Anyone interested in learning more is encouraged to visit the Allegro MedSpa's website and book a consultation with one of the practice's expert injectors.
About Allegro MedSpa
Allegro MedSpa specializes in a range of aesthetic rejuvenation services for men and women of all ages. Popular non-surgical treatments include Botox, Juvederm, CoolSculpting, laser skin resurfacing, miraDry, tattoo removal, non-surgical vaginal tightening, and laser hair removal.