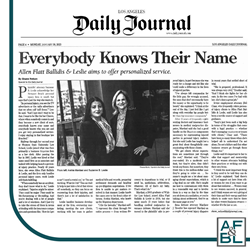 NEWPORT BEACH, Calif. (PRWEB) February 11, 2023
Orange County personal injury attorney Suzanne B. Leslie, Owner, and Arshia Mardasi, Attorney, from Allen Flatt Ballidis & Leslie were recently interviewed by Daily Journal in an article entitled "Everybody Knows Their Name" (click to view) published on January, 30th, 2023.
In the article, plaintiffs' attorney Suzanne acknowledges her Newport Beach personal injury firm is small, but she says that's just the way she likes it to be. "In personal injury law, TV and radio advertisers often portray personal injury firms as "'mill firms,'" Leslie said. "And I just don't want to be that. I want to be like the bar Cheers—when you come through our doors and become a new client, everybody knows your name, knows who you are, and you can count on highly personalized service.
Halfway through her second year at Western State University Law School, Leslie joined what was then primarily a business litigation firm as a law clerk. After passing the bar in 1987, she was hired at that same small firm as an associate and was tasked with helping launch a personal injury practice. Nearly 40 years later, she owns Allen Flatt Ballidis & Leslie, and the firm handles only personal injury cases, work that Leslie still finds fulfilling after more than four decades.
"When somebody has an accident, they don't know what to do," Leslie explained. "Their injuries might be minor. They could be major. They could be life-threatening or life-ending. And you're dealing with a lot of people with a lot of emotions. I just try to take the stress off them in terms of dealing with the insurance companies and questions like, 'How do I get a car?' 'Do I need a rental car?' Or 'I'm not working. What do I do?' It can really help to just take a lot of that stress off someone, so they can focus on recovering from their injuries, and there's just a lot of satisfaction in doing this."
Leslie handles business development at the firm, oversees marketing, meets with new clients, and works with her team to gather medical bills and records, prepares settlement demands and heads up pre-litigation negotiations. If the firm is unable to get matters resolved in that manner, Leslie hands the cases over to the firm's other attorney, Arshia Mardasi, who runs the litigation department. "I file the lawsuits," Mardasi said, "I represent the client through the entire process — from written discovery to depositions to trial, or if need be, handling mediations and arbitrations."
Mardasi, a 2003 graduate of Whittier Law School, joined Allen Flatt Ballidis & Leslie in 2018, but she spent nearly 15 years before that handling medical malpractice insurance defense. Mardasi said she moved to the plaintiffs' side in personal injury, in part because she was ready for a change and felt like she could make a difference in the lives of injured people. "I've always felt compassion for the little guy, the wrongly accused, the ones that don't necessarily have the money or the opportunity to be heard," she explained. "I think at the end of the day, I just feel like I get along with everyday lay people better than big insurance companies."
After 15 years of frequently representing doctors and insurance businesses in medical malpractice disputes, Mardasi said she had a good handle on the litigation components necessary for representing injured parties in personal injury matters. But, she said Leslie has taught her a great deal about thoughtfully communicating with those clients. "We get clients whose expectations are sometimes just through the roof," Mardasi said. "They're rear-ended. It's a moderate accident, but they're alive, and they didn't break any bones. But somehow, they think this is the million-dollar case they're going to retire on.
Suzanne's taught me a lot about managing clients' expectations and this is a big deal on our side. She's taught me how to communicate with them in a reasonable way and to involve them in a way, so by the time you sit down at a mediation, or you're talking about settlement, they're on the same page as you."
To view the full article published in the Daily Journal visit the link here.
About Allen Flatt Ballidis & Leslie
Allen Flatt Ballidis & Leslie is a personal injury law firm in Newport Beach. The firm achieves excellent outcomes for their clients, both in and out of the courtroom, and is known for the elevated level of compassion they show their clients and for the way they fiercely fight and advocate. They understand how to help clients navigate the complexities of working with insurance and healthcare entities. Over the past four decades, the firm has also established a strong reputation for working with mediators and defense counsel on behalf of their clients.
To learn more about the practice areas of Allen Flatt Ballidis & Leslie, call 949-752-7474 (local) or 888-752-7474 (toll-free), or email contactus@allenflatt.com. Visit Allen Flatt Ballidis & Leslie's official website at https://www.allenflatt.com to get a free case review.