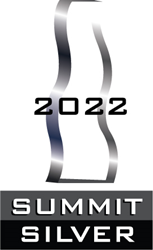 AllenComm is pleased and grateful to be recognized with an award for its design work on Freddie Mac's CreditSmart Coach program, an impactful, community-empowering financial-literacy training course.
SALT LAKE CITY (PRWEB) November 30, 2022
AllenComm – a leader in the development of impactful and empowering learning solutions for top brands, nonprofits, and public safety organizations – and Freddie Mac were recently honored with a prestigious Silver medal 2022 Summit International Creative Award. The honor was awarded to recognize their collaboration on the Freddie Mac CreditSmart Coach program, a financial capability training program provided free of charge to empower underserved communities.
The award represents a landmark achievement for AllenComm. Founded in 1994, the Summit International Creative Awards honor the best web, design, video, advertising, interactive, mobile, and social marketing from creative agencies worldwide. The Summit Creative Award is a sought-after confirmation of excellence among creative firms. This year there were more than 3,400 creative submissions from 19 countries across 62 categories.
Freddie Mac's CreditSmart first launched more than two decades ago to teach the financial literacy skills needed to improve consumer credit. To date, Freddie Mac has trained more than 5 million consumers via CreditSmart Essentials, and tens of thousands of industry professionals have been trained as facilitators via CreditSmart Coach.
In partnership with AllenComm, Freddie Mac reimagined and updated the program, adding elements to enhance learning via greater engagement and program effectiveness for both industry professionals and consumers.
Newly enhanced features include digital elements for a blended learning solution using a custom Learning Management System with an online experience featuring self-paced eLearning, live (webinar) master classes with trainers, interactive Q&A sessions with master trainers, discussion boards, homework, and a final exam. The courses are Americans with Disabilities Act accessible and designed to be used in diverse communities across the United States.
Learning topics are comprehensive, ranging from credit-building to money management. The courses are designed to encourage a growth mindset and planning to meet goals such as home ownership, and to teach resilience in the face of unforeseen financial challenges.
AllenComm was pleased to use its instructional design domain expertise and world-class creative services in service of the collaboration with Freddie Mac on the CreditSmart program, which provides a valuable resource to consumers and makes a positive impact in communities. AllenComm offers a full-service instructional design staff, well-versed in the latest in learning methodologies and supported by an agency-level creative team to provide end-to-end service from design through to development, delivery, and seamless integration and implementation. This award brings AllenComm's total number of awards for 2022 to 52 for the year as of this writing.
For more information, please contact AllenComm.
About AllenComm
AllenComm is a leading custom training solutions provider of innovative, scalable, impactful learning solutions that excite, engage, and educate. What makes AllenComm unique is a combination of deep instructional design experience, innovative learning technologies, marketing agency-quality creative, and a design and development system that enables us to understand our clients and their learners' need and objectives – and develop learner-centered design to enhance human performance. For the past 40 years, AllenComm has worked to create transformational learning solutions that enable our clients to become sharper, smarter, and better as they create positive impacts in their communities.
About Summit International Awards
The Summit Awards organization is dedicated to furthering excellence in the communications industry. It administers rigorous awards competitions throughout the year with the goal of recognizing companies that excel. The Summit Creative Awards recognize creative excellence for websites, advertising, interactive, digital, and design.