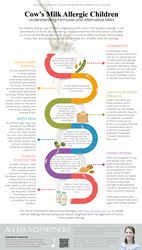 ASHEVILLE, N.C. (PRWEB) January 14, 2020
For infants and young children diagnosed with cow's milk protein allergy, it can be stressful to think about finding a replacement for the milk which provides so much of the fat, protein, and calcium crucial to early nutrition. Fortunately, many new products can act as substitutes for children with this allergy.
A small percentage of patients will not tolerate soy, sometimes due to a coexisting soy allergy.
ALTERNATIVE
Fortunately, many products now exist which can act as substitutes for children with this allergy. Once cow's milk allergy has been identified, many children will be switched to a soy-based formula such as ProSobee, Isomil, or Nestlé Good Start Soy.
ASEIN-BASED FORMULA
If a soy-based formula is not an option, alternatives include extensively hydrolyzed formulas and amino acid-based formulas. Alimentum and Nutramigen are both extensively hydrolyzed formulas. These examples are casein-based. These formulas contain cow's milk protein broken down to the point where most children with milk protein allergy will tolerate them
A whey-based extensively hydrolyzed formula is Gerber Extensive HA.
Amino acid-based formulas are also sometimes used in the management of another allergic disease, eosinophilic esophagitis.
AMINO ACID-BASED FORMULA
Casein and whey are both proteins within cow's milk to which children can be allergic, so some patients may not tolerate these formulas. For patients intolerant to these formulas, an amino acid-based formula is an alternative which is almost universally tolerated. Examples include Elecare and Neocate.
RIPPLE MILK
As children age, they may decide to try different plant-based milks. Soy milk is the most similar to cow's milk among the plant-based alternatives with similar protein and calcium contents but lower fat compared to cow's milk.
Ripple milk is a green pea-based milk which has lower carbohydrates than the other milks discussed but has similar fat, protein, and calcium content to soy milk.
Almond, coconut, oat, and rice milks contain similar amounts of calcium in a 1 cup serving compared to cow's milk, but have significantly lower amounts of fat and protein than cow's milk.
OTHER OPTIONS
With the exception of soy and Ripple milk, other plant-based products tend to be low in protein as compared to cow's milk. Some fortified products exist, but labels should be read carefully to ensure they have enough of the essential nutrients required to be a main source of nutrition.
Other grain-based and tree nut-based milks exist, again with similar pitfalls.
In older children, most will get enough protein from meat and other sources to make up for the lower content in these milks, but if a child has multiple allergies or is a picky eater, a consultation with a nutritionist may be required. Toddler formulas provide a more complete source of nutrition for some children.
Keep in mind that many children who react to cow's milk will also react to goat's milk.
Allergy Partners, P.A., is the nation's largest single specialty practice with multiple locations across the United States. Our allergy and asthma doctors strive to be recognized as leaders in the development and delivery of high-quality health care for patients with asthma & allergic disease. Our vast care network of providers work together to promote education, research & innovation in the field of allergy & asthma care.
Article by Dr. Catherine Cranford | Allergy Partners of Western North Carolina