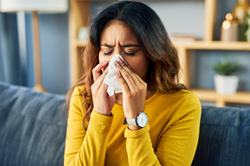 There are few over-the-counter allergy medications that can match the effectiveness and affordability of Claritin.
OVERLAND PARK, Kan. (PRWEB) December 31, 2020
TopConsumerReviews.com recently gave a best-in-class 5 star rating to Claritin, a leader among non-prescription Allergy Relief products.
Almost everyone knows how miserable it can be to suffer from allergies. From the sneezing and runny noses that threaten to disrupt important meetings or steal sleep, to the less-than-effective medications that leave people almost too drowsy to function, it's easy to see why people are looking for the "silver bullet" of allergy relief: something affordable yet effective, with few side effects and a proven track record of conquering all of those annoying, distracting symptoms. Fortunately, over the last few years some of the most effective allergy relief products have been made available over-the-counter, giving people a much wider range of options to choose from without needing to see a doctor.
"There are few over-the-counter allergy medications that can match the effectiveness and affordability of Claritin," affirmed Brian Dolezal of TopConsumerReviews.com, LLC. "Originally prescription-only, this loratadine-based product made quite a splash when it was finally made available without a doctor visit. Claritin tackles symptoms stemming from more than 200 allergens, including dust, pollen, pets and mold, making it one of the most versatile allergy relief products on the market. Plus, with numerous formulations — for adults and for children, in tablet/liquid/chewable/fast-dissolving formats, and so on — there's literally a Claritin for every patient. At an average price of less than 50 cents per dose, and with a 60-day satisfaction guarantee, this is one of the most reliable allergy products on the market. For all of these reasons, Claritin is our newest first-place winner among Allergy Relief products in 2020."
To find out more about Claritin and other over-the-counter Allergy products, including reviews and comparison rankings, please visit the Allergy Relief category of TopConsumerReviews.com at https://www.topconsumerreviews.com/best-allergy-products/.
About Claritin
Claritin is a product of Bayer. Bayer is a global enterprise with core competencies in the life science fields of healthcare and nutrition. Its products and services are designed to benefit people by supporting efforts to overcome the major challenges presented by a growing and aging global population. At the same time, the Group aims to increase its earning power and create value through innovation and growth. Bayer is committed to the principles of sustainable development, and the Bayer brand stands for trust, reliability and quality throughout the world.
About TopConsumerReviews.com
TopConsumerReviews.com, LLC is a leading provider of reviews and rankings for thousands of consumer products and services. From Allergy Relief to Insomnia and Restless Leg Syndrome, TopConsumerReviews.com delivers in-depth product evaluations in order to make purchasing decisions easier.