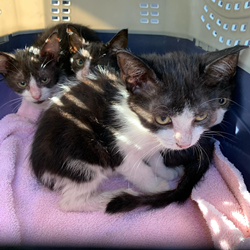 As TNR gains popularity, kitten births and overall cat colony population in targeted areas are decreasing dramatically.
MOUNT RAINIER, Md. (PRWEB) May 18, 2021
Alley Cat Rescue, Inc. (ACR) has completed a wide-spread online "Community Cat" survey of TNR groups and colony caretakers that shows a remarkable increase in TNR practices from 2012 to 2019. Survey data shows that the total number of community cats sterilized annually by respondents increased from 45,000 in 2012 to 62,000 in the most recent survey, which is an increase of about 4% per respondent.
The survey results have been analyzed by Animals 24-7, a nonprofit, independent online investigative newspaper and information service.
ACR's 2019 data, combined with data from their earlier national surveys done in 2017 and 2012, along with data from Animals 24-7's 1992 and 1996 national surveys, reveal a "48% decline in kitten births in monitored neuter/return colonies during the first years that neuter/return was practiced, followed by a long plateau, during which the kitten birth rate edged down only 4% more in the next 16 years, probably due to limited resources" (Animals 24-7). That meant the decline in kitten births from 1992 to 2012 was 52%. However, ACR's survey data spanning the years of 2012 to 2019 show a significant revitalization of TNR; between 2012 to 2017, kitten births dropped 72% and between 2017 and 2019, they had dropped by 77%.
ACR's most recent survey also reveals that extermination of colony cats is not an effective means of shrinking nor getting rid of colonies. Survey respondents who reported that animal control agencies had exterminated feral colonies in there area also reported that "39% were re-occupied by feral cats within less than a month; 71% within three months; 80% within five months; and 84% within six months" (Animals 24-7).
81% of ACR 2019 survey respondents reported cooperation with their TNR efforts from local animal control agencies and 37.5% reported actually receiving assistance from local animal control agencies. This reveals that government animal control is recognizing the importance of TNR.
About Alley Cat Rescue: ACR is a national nonprofit organization dedicated to the welfare of all cats: domestic, stray, abandoned, and feral. ACR advocates for humane nonlethal control of feral cats. ACR has been awarded the Independent Charities of America's "Best in America" Seal of Approval, and our newsletter has won several awards from the Cat Writers' Association. For more information, visit their website http://www.saveacat.org.
Data analysis source: https://www.animals24-7.org/2021/04/24/tnr-boomed-before-covid-19-hit-alley-cat-rescue-survey-shows/