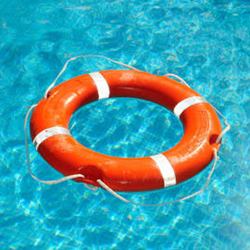 Inflatable pool toys are fun but not a substitute for a lifejacket.
Neptune City, NJ (PRWEB) July 24, 2014
All Hands Fire Equipment, a NJ company offering fire and safety equipment as well as training, shares tips for keeping swimming pools safer this summer.
10 Drownings Occur Every Day
US drowning statistics are startling. With the CDC reporting that 10 people drown every day and that it's the fifth on the list of leading causes of unintentional injury deaths (source: CDC), pool safety is very important.
All Hands Fire Equipment CEO, Donald Colarusso, a safety trainer and firefighter for over 26 years says,
"Having a swimming pool at home can be a great way to stay cool in the summer but it's a huge responsibility to the homeowner. There are a few things to consider, namely the safety of loved ones using the pool, the safety of people in your neighborhood, and following the letter of the law on the matter."
Tips for Pool Safety
1. Know the law regarding pool fencing. Even small pools such as a kiddie pool could have legal requirements. Things like self-latching gates and locks as well as adequate height and minimal space between slats to ensure neighborhood children can't wander into pool area's.
2. Set pool guidelines with everyone who lives in the home including visitors regarding behavior around the pool. Rules about walking and not running, about not diving into the shallow end, as well as rules about wearing personal floatation devices and ensuring pool safety can help minimize injuries. Inflatable pool toys are fun but not a substitute for a lifejacket.
3. Nothing beats adult supervision. Far too many accidents happen when distracted adults leave children unsupervised. It only takes an instant for something bad to happen and drowning can happen in as little as 2 minutes with only an inch of water.
4. Outfit the pool area with water safety items and consider receiving first aid and CPR training. Keep a cordless or cellular phone near the pool area in case of emergency.
5. Consider investing in swimming lessons for everyone even infants can receive training that can help prevent drowning.
About All Hands Fire Equipment
All Hands Fire Equipment provides a variety of safety equipment and safety training services. The family-owned company offers a variety of equipment from their online safety and fire equipment store.