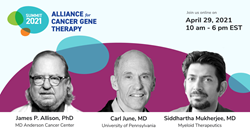 It's so rare to have the opportunity to hear from the world's top cancer researchers, biotechs, investors and patients all in the same room
STAMFORD, Conn. (PRWEB) April 16, 2021
April 29 marks a pivotal moment in cancer research when the world's brightest minds come together to discuss how to translate the success of CAR T-cell therapies for blood cancers into successful cell and gene therapies for the most complex and deadly solid tumor cancers. The scientists and companies driving the latest advances in cancer cell and gene therapy will gather online for a virtual Summit with the Alliance for Cancer Gene Therapy, who envision a cancer free future and want to change the C-word from Cancer to Cure. The Summit is open to the public, to medical professionals, scientists and companies interested in cell and gene therapy to fight cancer. To register for the Summit, visit acgtfoundation.org.
Summit 2021 is being held online on Thursday, April 29, 2021, from 10:00 a.m. until 6:00 p.m (ET), and features eight (8) panel discussions with leading researchers developing the next generation cancer cell and gene therapies, biotech companies who are bringing new treatments through the clinic, and investors who are funding this burgeoning pipeline of solid tumor breakthroughs.
The panels include:
Keynote: Does Cancer Have a Future? What's Next? Where Will We Be in 2025?
A conversation with Nobel Laureate James P. Allison, PhD, executive director of the Immunotherapy Platform at MD Anderson Cancer Center, and Carl H. June, MD, director of the Center for Cellular Immunotherapies, Perelman School of Medicine, University of Pennsylvania. The conversation will be moderated by Siddhartha Mukherjee, MD, founder, Myeloid Therapeutics, Pulitzer-prize winning author of "The Emperor of All Maladies."
Evolving Cell and Gene Regulatory and Manufacturing Processes to Match the Speed of Innovation
Panel discussion with: Rafael Amado, MD, executive vice president, head of R&D and chief medical officer, Allogene Therapeutics; Andre Choulika, PhD, chairman, CEO and founder, Cellectis; Amy DuRoss, founder and CEO, Vineti; Bruce Levine, PhD, Barbara and Edward Netter professor in Cancer Gene Therapy, University of Pennsylvania; Ke Liu, MD, PhD, senior vice president and head of Regulatory Affairs & Strategy at Sana Biotechnology, former FDA Oncology Center of Excellence associate director for Cell and Gene Therapy; and moderated by Asthika Goonewardene, managing director, Equity Research - Biotech, Truist Securities.
Innovating Science, From the Lab to the Clinic
Panel discussion with: Brian Brown, PhD, professor and associate director of the Precision Immunology Institute, Icahn School of Medicine, Mount Sinai; Yvonne Chen, PhD, associate professor of Microbiology, Immunology & Molecular Genetics, UCLA, Founder Kalthera; Franco Marincola, PhD, senior vice president and global head of Cell Therapy Research at Kite, a Gilead Company; Clodagh O'Shea, PhD, professor, Molecular and Cell Biology Laboratory, Salk Institute, scientific founder IconOVir Bio; and moderated by Jenna Foger, senior vice president, Science & Technology, Alexandria Venture Investments/Alexandria Real Estate Equities.
Tackling the Toughest Challenges — Pancreatic Cancer
Panel discussion with: Sidi Chen, PhD, associate professor, Yale Cancer Center; Joseph A. Fraietta, PhD, director, Solid Tumor Immunotherapy Laboratory, Center for Advanced Cellular Therapeutics, University of Pennsylvania; Michael T. Lotze, MD, professor of Surgery and Bioengineering, University of Pittsburgh, chief cellular officer, Nurix, chair of Alliance for Cancer Gene Therapy's Scientific Advisory Council; Mark H. O'Hara, PhD, assistant professor of Medicine at the Hospital of the University of Pennsylvania; and moderated by Andrew Rakeman, PhD, vice president of Research, Lustgarten Foundation.
Tackling the Toughest Challenges — Glioblastoma
Panel discussion with: Nduka Amankulor, MD, department of Neurosurgery, University of Pittsburgh Medical Center; Samantha Bucktrout, PhD, senior director of Research, Parker Institute of Cancer Immunotherapy; Noriyuku Kasahara, MD, PhD, principal investigator, Brain Tumor Center, UCSF; Crystal Mackall, MD, founding director, Stanford Center for Cancer Cell Therapy; and moderated by Klaus Veitinger, MD, PhD, venture partner OrbiMed.
New Approaches to Solid Tumor Breakthroughs
Panel discussion with: Ken Drazan, MD, chief executive officer, ArsenalBio; Daniel Getts, PhD, chief executive officer & co-founder, Myeloid Therapeutics; Garry E. Menzel, PhD, president and chief executive officer at TCR² Therapeutics; and moderated by Luke Timmerman, founder and editor, The Timmerman Report.
Patients, Caregivers, Doctors, Oncologists, Advocates, Researchers, You, Me – We all Have Cancer in Common
Panel discussion with: Caroline Corner, PhD, managing director, Westwicke; Robert Levis, director CLL Society; Callum Miller, CAR-T recipient, patient advocate; Tom Whitehead, co-founder, The Emily Whitehead Foundation; and moderated by Gregory C. Simon, former president of the Biden Cancer Initiative.
Innovating Finance, Non-Traditional Funding Sources
Panel discussion with: Jay Campbell, managing director of Cancer Research Institute Clinical Accelerator and Venture Fund; Marc Hurlbert, PhD, chief science officer, Melanoma Research Alliance; Ken Schaner, partner Schaner & Lubitz; Anna Turetsky, PhD, principal, Venture Investments, The Mark Foundation for Cancer Research; moderated by Luke Evnin, PhD, co-founder and managing director MPM Capital.
"It's so rare to have the opportunity to hear from the world's top cancer researchers, biotechs, investors and patients all in the same room," noted Barbara Lavery, chief program officer for Alliance for Cancer Gene Therapy. "We're excited to have Alliance for Cancer Gene Therapy be a catalyst for these important conversations that will help not only other scientists working on new cell and gene therapy approaches, but companies seeking investment to advance their clinical pipelines, and patients and their families looking for potentially life changing therapeutic options in their fight against cancer."
To learn more, see the list of speakers and panels and register for the event, visit the website Alliance for Cancer Gene Therapy Summit 2021.
Alliance for Cancer Gene Therapy
For 20 years, Alliance for Cancer Gene Therapy has funded research that is bringing innovative treatment options to people living with deadly cancers – treatments that save lives and offer new hope to all cancer patients. Alliance for Cancer Gene Therapy funds researchers who are pioneering the potential of cancer cell and gene therapy – talented visionaries whose scientific advancements are driving the development of groundbreaking treatments for ovarian, prostate, sarcoma, glioblastoma, melanoma and pancreatic cancers. 100% of all public funds raised by Alliance for Cancer Gene Therapy directly support research and programs. For more information, visit acgtfoundation.org, call 203-358-5055, or join the Alliance for Cancer Gene Therapy community on Facebook, Twitter, LinkedIn, Instagram and YouTube @acgtfoundation.