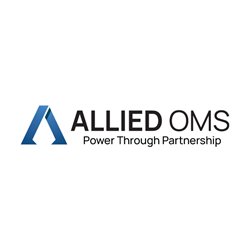 With Allied OMS, we get the best of private practice and the best of private equity
FORT WORTH, Texas, EVERGREEN, Colo. and CHICAGO (PRWEB) January 28, 2021
Allied OMS, a leading management services organization in the oral and maxillofacial surgery space, is pleased to announce the addition of four new member practices in December 2020. With these additions, Allied OMS now has seven practices with ten locations delivering top clinical outcomes to patients in California, Colorado, and Texas.
Through the combination of expertise in private equity, practice management, and sophisticated legal counsel, Allied OMS is rapidly becoming the leading practice management partner for doctors. The doctor owners at Allied OMS are educating leading practices across the United States about a smarter choice that emphasizes shared experience and collective knowledge to protect the legacy of your practice while maximizing your business investment.
"The momentum we realized closing out 2020 is a testament to how different our model is compared to traditional private equity. We are delivering on the ability to help practices grow through better contracting, accelerated revenue growth opportunities, and a model that is more attractive for doctor recruiting. With the start of the new year, we have more and more doctors reaching out to learn about the Power through Partnership that comes from joining Allied OMS," said Ryan Graham, Chief Operating Officer of Allied OMS.
"Macrotrends in healthcare have steadily trended toward consolidation and increased complexity," said Dr. Jonathon Jundt. "Owning and operating a private practice is cumbersome and time consuming. Allied OMS provides an unparalleled opportunity to enhance practice value through access to private equity, a team of dedicated and experienced business minds negotiating on behalf of the practice, economies of scale, and the insight into member practices throughout the United States."
"Like Dr. Jundt, I was intrigued by the possibility of both controlling the clinical side of the practice and having a voice on the business side. We are hearing from more doctors that want that dual experience. With Allied OMS, we get the best of private practice and the best of private equity," said Dr. David Kostohryz, Jr.
Allied OMS and its doctor owners have benefitted from the counsel of Miller Johnson to protect doctor interests while providing a streamlined process and structure that saves significant time and money. These efforts have been led by Dustin Daniels, the chair of Miller Johnson's M&A practice group. "What Allied OMS has created for doctors is truly new to the market. Having closed hundreds of transactions with private equity, I see this model leveling the playing field for doctors by educating them about the inner workings of private equity, and how to turn this knowledge into significant value creation for their practices."
Allied OMS was launched at the height of uncertainty during the pandemic in April of 2020. Interest in this novel model has accelerated as practices learn more about how different the Allied OMS model is compared to traditional private equity. Operating in three states with ten office locations, the members of Allied OMS are well positioned for growth in 2021 as they deliver excellent patient outcomes. Allied OMS is actively recruiting to add more practice owners who share a growth mindset focused on excellence at all levels. Contact us to learn more.
About Allied OMS
Allied OMS is a new generation of Management Services Organization. Allied OMS is collectively owned and governed by doctor members and founders, leveraging decades of private equity and management consulting experience to employ the tools that maximize practice value and to share these benefits with the doctors – they have turned Private Equity into Doctor EquityTM. Allied OMS is composed of best-in-class OMS practices that are in the top-tier of clinical outcomes. Contact Allied OMS at Partner@AlliedOMS.com to learn how they can help your practice be stronger by gaining Power Through PartnershipTM.
About Miller Johnson
Miller Johnson's M&A and healthcare practice groups collaborate with clients and their advisors to structure, negotiate and close deals and to navigate the challenges that can arise in mergers, acquisitions, dispositions and other business combination or investment transactions. Miller Johnson is top listed for mergers and acquisitions with U.S. News & World Report's Best Law Firms and is ranked by Chambers USA. At The M&A Advisor's national awards and the ACG M&A Deals and Dealmakers regional awards, Miller Johnson's attorneys are consistently involved in deals honored as winners and finalists.
About DuneGlass Capital
DuneGlass Capital was founded to help healthcare companies realize their full potential. With a combined three decades of experience including multi-unit operations, private equity deal structuring, and healthcare business strategy, the founders of DuneGlass Capital have created a repeatable process for value creation. As sons of physicians, they understand how important it is to mentor their clinical shareholders in private equity to maximize the intrinsic value of the practices. Contact DuneGlass Capital at Partner@duneglasscapital.com to learn more about how we can enhance the value of your practice.