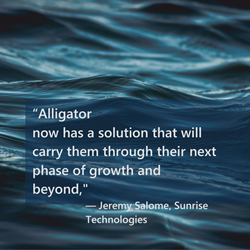 WINSTON-SALEM, N.C. (PRWEB) January 28, 2020
Sunrise Technologies, a global Microsoft Dynamics 365 provider for Business Applications and Cloud services, announced today that Alligator Holdings is live on Dynamics 365 Finance and Operations, and Dynamics 365 Commerce. Alligator Holdings is one of the first organizations worldwide using Microsoft's Dynamics 365 Commerce solution for its omni-channel business processes.
Alligator Holdings helps companies create innovative products for the medical device, water filtration, and environmental industries. Alligator team members were looking for an ERP solution that could scale as the company grew, and could handle its fast-growing commerce, distribution, manufacturing, and intercompany processing. Dynamics 365 on Azure was selected for its flexible, cloud platform that would help Alligator achieve rapid growth without significant infrastructure investments.
Dynamics 365 Commerce is Microsoft's latest addition to the Dynamics 365 suite of business applications. Commerce combines in-store, online, and call center retail operations into a single solution that integrates seamlessly with Dynamics 365 Finance and Operations.
By taking advantage of the integration between Dynamics 365 Finance and Operations and Commerce, Alligator's omni-channel businesses processes exist entirely within Dynamics 365 applications on the Microsoft Azure platform. Running all of Alligator's core business applications on a single cloud platform provides flexibility and scalability as the business grows.
"We couldn't have done this project without Sunrise and Microsoft," said Robert Berndt, Technical Architect of Alligator Holdings. "As a growing organization, we're moving fast, and Dynamics 365 gives us everything we need to actually help us scale, not hold us back." Denise Stoffel, Functional Architect for Alligator added. "With help from our partner Sunrise Technologies, we are confident that we can handle all of the potential growth of our most exciting new company, Qualified Water Systems™, which sells a patented breakthrough brand of customizable, modular-based water purification and filtering products manufactured right here in the US."
"Alligator now has a solution that will carry them through their next phase of growth and beyond," said Jeremy Salome, Sr. Solutions Director at Sunrise Technologies. "It's really exciting what our customers have been able to achieve with Dynamics 365, and with the introduction of Commerce, they now have a total retail solution on a secure platform."
About Sunrise Technologies
Sunrise Technologies is a premier global provider for Microsoft cloud-based solutions, backed by extensive industry expertise in Dynamics 365, Power BI, Fraud Protection and Azure for retail, apparel, fashion, consumer products, furniture and manufacturing companies. Sunrise delivers global, Tier 1, supply chain solutions and support that enhance Microsoft business applications for a lifetime. Plus, customers can hit the ground running with industry best practices, pre-built configurations and a proven methodology.