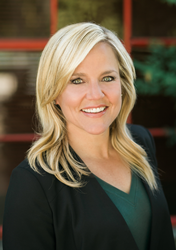 SACRAMENTO, Calif. (PRWEB) April 21, 2021
Otto Construction, an award-winning construction company serving Northern and Central California, announced today that Allison Otto, the company's Executive Vice President, has been selected by the Board of Directors to assume the role of President and CEO, effective in June 2021. She is the third generation of her family to lead the company, which was founded by her grandfather, John F. Otto, in 1947 and previously led by her father, Carl Otto, until his unexpected death in 2007. After spending more than 20 years in various roles at the company, Allison looks forward to leading Otto Construction to continued growth and success.
Otto has been preparing for this role since she joined the family business in 2000 and launched the company's marketing department. She has served as Executive Vice President since 2019, where she managed new business acquisition and client relations. Under the stewardship of current President and CEO Carl Barrett and the current management team, which includes Otto, annual revenues have more than doubled since 2013, to $190 million, the largest in company history. Otto Construction currently employs approximately 150 people, and its diverse management team boasts a combined 136 years of experience with the company.
"Our company's success has been earned by remaining committed to the 'Otto Way' – our core values of hard work, honesty, integrity and compassion for others," Otto said. "Our continued growth has also been driven by visionary leadership that looks to future trends and identifies new ways to improve the quality and services of the company."
TWEET THIS: Otto Construction names Allison Otto, third-generation family member, as President and CEO #SacramentoBusiness #construction #familybusiness https://ottoconstruction.com/
"As President and CEO, my vision for the future is to foster collaborative relationships with both internal and external contacts while expanding opportunities for growth and advancement for all employees," she added. "We will pursue innovation and new technological advances to assure another 75 years of prosperity and influence in the communities we serve."
Otto succeeds Barrett, who is retiring after seven years as President and CEO and 28 years with the company. After mentoring her over the years, Barrett said Otto will lead the company to even greater heights.
"The future of Otto Construction is as much about passion as it is about process," Barrett said. "As its President and CEO, Allison Otto will build upon a solid foundation and leverage the company's success while continuing to engage clients, partners, vendors and employees with the same level of enthusiasm and forward thinking that has distinguished us as a family business for nearly 75 years."
Barrett will remain involved as an active member of the Board of Directors.
ABOUT ALLISON OTTO
Otto graduated from the University of Southern California with a degree in business administration and earned a construction management certificate from UC Davis. She also has earned a LEED advanced professional credential and is an associate design-build professional. Otto serves on the board for the Society of the Blind in Sacramento, for which the company built the Carl R. Otto Annex, a 5,000-square-foot multi-purpose training space dedicated in 2020.
KEY FACTS ABOUT OTTO CONSTRUCTION
The company primarily serves the Sacramento and Monterey regions and has built many notable projects, including:

North Natomas Community Center and Aquatics Complex
Sacramento State Riverview Hall
College Center Expansion at Cosumnes River College
College of Arts, Humanities, and Social Sciences Building at CSU Monterey Bay
Major General William H. Gourley VA-DoD Outpatient Clinic
Current projects include the SMUD Museum of Science and Curiosity. Earlier this year, the company earned a Constructor Award from the Associated General Contractors of California for the modernization of Greer Elementary School in the San Juan Unified School District.
With Allison Otto taking the helm, Otto Construction will be one of the largest woman-owned commercial general contractors in Northern California.
ABOUT OTTO CONSTRUCTION
Otto Construction was founded in 1947 by John F. Otto and has remained a family-owned business for three generations, with Allison Otto becoming President and CEO in 2021. For more than seven decades, Otto has upheld their standards of building relationships and delivering quality projects with trust, teamwork, and dedication. With offices in Sacramento and Monterey, Otto Construction builds high-caliber projects including senior living complexes, historical renovations, educational facilities, healthcare buildings and parking structures throughout Northern and Central California. For more information about Otto Construction and its services and project portfolio, visit OttoConstruction.com.