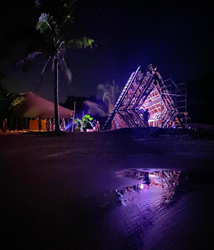 "AllThingsGood only offers up good news happening all around us. Art With Me is the only festival happening right now, so we wanted to support and celebrate an organization that knows how to arrange and host a responsible event by becoming one of the sponsors," Andrew Fox, Chairman, AllThingsGood
TULUM, Mexico (PRWEB) November 11, 2020
AllThingsGood Co, a brand new media company that only offers up positive news, is sponsoring Art With Me, an international arts, music and cultural festival that kicks off today in Tulum, Mexico. The five day event features 300 activations, 120 artists, 30 musical acts, 20 wellness activities, 25 environmental programs and 20 food and wine happenings- all held outdoors on the beaches with extreme COVID protocols.
"AllThingsGood only offers up good news happening all around us. Art With Me is the only festival happening right now, so we wanted to support and celebrate an organization that knows how to arrange and host a responsible event by becoming one of the sponsors," said Andrew Fox, Chairman, AllThingsGood Co. "The only thing we seek by sponsoring this event is the chance to generate smiles from the people who attend. If you smile, we know you are feeling good, and promoting good things in the world is our sole focus."
The alignment of the missions between Art With Me and AllThingsGood was so obvious to the leadership of both groups that the sponsorship came together quickly last month. Sponsors of the sold out event, along with ticket revenue, help bring the event to life, which includes a major focus on integrating with the local community, paying homage to Mayan culture and raising awareness and promoting actions to address the environmental concerns in Tulum.
For anyone who wants to submit their own good story, please contact us at inquiries@theatgco.com.
To see the good things happening at the event, follow @artwithmetulum on Instagram.
To learn more about All Things Good and get a constant feed of good news, please follow us https://www.instagram.com/AllThingsGoodCo/