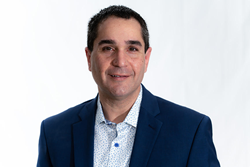 "Josh's impressive background in building profitable businesses and his in-depth knowledge of web security will help position Allure for continued excellence in these rapidly changing times." - Rick Grinnell, Glasswing Ventures
BOSTON (PRWEB) April 08, 2020
Allure Security, provider of patented anti-phishing technology that protects enterprise customers and helps online businesses build and retain digital trust, today announced the appointment of Josh Shaul as the company's new chief executive officer (CEO). Shaul will lead Allure through its next major growth and development phase. Jack Hembrough, who had served as interim CEO, will now become the company's executive chairman of the board. Both will be based out of Allure's Boston-area headquarters.
As CEO, Shaul's core objective is to shape and execute Allure Security's vision and aggressive growth strategy. Shaul brings more than 20 years of information security experience to this role, including senior leadership positions at Akamai, Singtel/Trustwave, Application Security, and SafeNet. He has a proven track record of building teams, creating impactful strategy, and driving growth for security companies of varying sizes. Prior to joining Allure, Shaul was vice president of Web Security at Akamai Technologies, where he spent four years leading its security business team through explosive growth, guiding the business from a base of nearly $300M to nearly $1B in annual revenue. In addition to being a sought-after speaker at security conferences such as RSA, Shaul is also the author of the acclaimed book, Practical Oracle Security: Your Unauthorized Guide To Relational Database Security. 
"Josh's impressive background in building profitable businesses and his in-depth knowledge of web security will help position Allure for continued excellence in these rapidly changing times," said Rick Grinnell, founder and managing partner of Glasswing Ventures and member of the Board of Directors at Allure Security. "We are grateful for Jack's leadership as interim CEO and look forward to working with him and Josh as the company continues its important work in an ever-increasing cyber threat landscape."
Built on patented beacon technology, Allure's Software-as-a-Service (SaaS) alerts companies in real-time when cybercriminals build malicious spoof versions of their customer-facing websites as part of an orchestrated phishing attack. Allure empowers organizations to be more proactive before a phishing scheme has the chance to succeed, protecting the private credentials of customers and keeping the company's brand reputation intact.
"As we head into a completely new paradigm in which global economic and public health events have forced more transactions to be made online, enterprises and their customers face even more threats from phishing scams," noted Josh Shaul, CEO of Allure Security. "I am looking forward to leading Allure as we help companies every step of the way in these challenging times. Now more than ever, it's vital to detect and shut down phishing threats, preserving that important trust relationship between companies and their end-users."
About Allure Security
Allure Security's mission is to improve early detection of web spoofing as part of an orchestrated phishing attack, protecting customers from fraud and preserving the enterprise's brand reputation. Using its patented, award-winning beacon and deception technologies, Allure Security's SaaS platform empowers enterprise security teams to detect and fight back against web spoofing in real-time. Organizations can proactively protect customer data and preserve brand reputation using a modern, easy-to-deploy solution. Allure Security is a Glasswing Ventures portfolio company. For more information, visit http://www.alluresecurity.com. 
Allure blog: https://www.alluresecurity.com/blog
Allure on Twitter: https://twitter.com/AllureSecurity
Allure on LinkedIn: https://www.linkedin.com/company/alluresecurity/
Press contact:
Michelle Barry
Chameleon Collective for Allure Security
michelle.barry@chameleon.co
(603) 809-2748