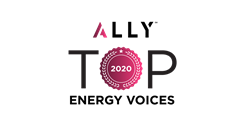 "The people who made this list have demonstrated a commitment to equity, the environment and the emerging energy economy." - Katie Mehnert, CEO and Founder, ALLY
HOUSTON (PRWEB) December 15, 2020
On the heels of LinkedIn's Top Voices 2020, ALLY, the social community for the energy transition, announces the year's top voices from across the energy sector.
"The industry that powers all others is filled with exceptional leaders who are introducing new, challenging ideas and sparking important conversations," says ALLY CEO Katie Mehnert. "The people who made this list have demonstrated a commitment to equity, the environment and the emerging energy economy."
The Top Energy Voices of 2020 comprise a broad cross-section of the energy community, from C-Suites to the field, from Houston to Silicon Valley, the UK to Africa and the Middle East.
Divided into three categories, the honorees are:
Energy Investment Voices

The #EFT - Energy Financial Twitter (FinTwit) community
Hillary H. Holmes - Partner, Gibson Dunn
Dan Pickering - Founder, Pickering Energy Partners
Jigar Shah - Clean Energy Investor, Generate Capital
Energy C-Suite Voices

Reem Al-Ghanim – Head of HR & Support Services, Chemicals, Saudi Aramco
Gaurdie Banister – Director, Dow and former CEO, Aera Energy
John Berger – Founder and CEO, Sunnova Energy Corporation
Paula Glover – President and CEO, American Association of Blacks in Energy and incoming President, Alliance to Save Energy
Paula Gold-Williams – CEO, CPS Energy
Åshild Larsen – CIO and SVP of IT, Equinor
Bernard Looney – CEO, BP plc
Tracy Lothian – SVP LNG, ExxonMobil
Rhonda Morris – VP and CHRO, Chevron
David Reid – CTO and CMO, NOV
Lorenzo Simonelli – Chairman and CEO, Baker Hughes
Gretchen Watkins – President and Country Chair, Shell US
Energy Sustainability Voices

Sara Al-Hinai - Field Engineer, Halliburton
Mervin Azeta - Product & Service Delivery Manager, Schlumberger
Jeff Bridges - Actor, Activist, Narrator of Living in the Future's Past and
Wesley Clark - General (ret.) and Founder, Renew America Together
Dr. Daniel Kammen - Energy Professor, UC Berkeley and Director of Renewable and Appropriate Energy Laboratory (RAEL)
Melanie Kenderdine - Principal, Energy Futures Initiative
Charli K. Matthews - Founder & CEO, Empowering Brands
Deb Ryan - Senior Manager, Engineering, Sproule
Leslie Shockley Beyer – President, PESA
"I was surprised when LinkedIn overlooked recognizing energy this year. We are a part of every day modern life, and are a critical part of emerging from the pandemic. Equity, environment and economy live on a married index and ALLY is proud to be that community where we welcome more conversation across the sector," says Mehnert.
To read about these voices, visit here.
About ALLY
Formerly known as Pink Petro, ALLY is the leading social community and resource for the energy workforce focused on powering an equitable energy transition. The community includes niche experts, executives, professionals, students, innovators, and investors where members can publish knowledge, find careers, and connect with reputable sources in energy. Members work in 120 countries in nearly 1000 companies across energy in oil and natural gas, utilities and renewables. For more information, visit ALLY here.