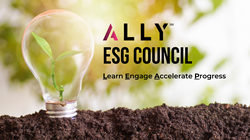 "We develop and accelerate solutions by bringing people together," says Katie Mehnert, CEO of ALLY Energy. "We're committed to building, mobilizing and scaling ESG in energy -- and that requires an environment in which a broad array of ideas and voices are heard."
HOUSTON (PRWEB) April 14, 2021
ALLY Energy, the online home for the energy community, has announced the creation of a council that will lead the industry in addressing Environmental, Social and Governance issues. The ESG Council includes leaders from every corner of the energy sector -- wind, solar, hydrogen, oil and gas, nuclear and more.
The council is composed of corporate executives, founders, entrepreneurs, academics, ESG experts and others. With diverse backgrounds and areas of focus, council members are united in their commitment to drive innovative actions that will tackle some of the most pressing issues of our time: the climate, sustainability, diversity, equity, inclusion and more. They'll collaborate to design new initiatives aimed at moving the entire industry, and the world, forward.
"We develop and accelerate solutions by bringing people together," says Katie Mehnert, CEO of ALLY Energy. "We're committed to building, mobilizing and scaling ESG in energy -- and that requires an environment in which a broad array of ideas and voices are heard."
"While ESG has suddenly been getting a great deal of attention across the sector, it's been our organization's focus for years," Mehnert adds. "We know that these issues are deeply intertwined. For example, a more racially diverse and gender equal workforce powers the kinds of innovations necessary to speed up the transition to renewable energy and combat climate change."
Mehnert officially announced the council's creation at Energy 2.0, an annual summit today. To join the first of the monthly series which begins May 20, 2021, sign up here. The council will put on relevant, timely topics that help move the energy sector forward.
The ESG Council will deliver concrete actions that all businesses, big and small, can take to move swiftly in a positive direction. Access to the council's online events and publications will be available to ALLY Energy members across the world. Members' input will also be welcome. As the social platform for the energy community, ALLY knows that sharing perspectives, challenges, and stories is essential for powering a future workforce. The platform is designed to give everyone in energy a voice, developing a community of allies. To join, visit: allyenergy.com/application
The ESG Council's founding members include global law firm Gibson Dunn and Terrapass, a carbon offset and renewable energy specialist.
ALLY Energy is the leading resource in diverse talent, careers, and culture, creating an inclusive workforce for the energy transition. The global community includes professionals in 120 countries in nearly 1,000 companies across energy in oil and natural gas, utilities, and renewables. Our ALLY Council of 40 organizations connects the energy industry to resources and best practices and is a neutral platform for dialogue and actions to address equity, the environment, and the new economy. For more information, visit: https://allyenergy.com