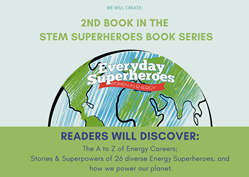 "A book allows kids to see and read about the energy superheroes from the offices to places like wind farms. We need kids to imagine themselves in these energy careers." said Erin Twamley.
HOUSTON (PRWEB) March 17, 2021
ALLY Energy is teaming up with Award-Winning Author Erin Twamley to create a multicultural children's book called "Everyday Superheroes: Women In Energy." The book, which will be released in 2022, will delve into the fascinating energy careers of 26 diverse women who are powering our planet.
Part of the "STEM Superheroes™" series, this unique book will use an A to Z format to share each career paired with the stories and illustrations of real women working in these energy careers. The book will offer children a glimpse into the diverse range of energy jobs that are available while giving them an understanding as to why such jobs are so meaningful.
"Energy literacy is essential. So many people aren't sure how energy works, or where it comes from," said ALLY CEO Katie Mehnert. "We need to go deeper and earlier to develop a pipeline of talent to power our future. If we give children opportunities to learn more, we will inspire the next generation of engineers or scientists. I'm thrilled to be teaming up with Erin and Joshua on the development of this book."
ALLY's Energy Workforce of the Future™ initiative is partly based on developing an industry value proposition and energy literacy, so as to nurture the talent that will become critical in supporting a lower carbon future. As Mehnert noted, in co-creating this new book, ALLY hopes to spark enthusiasm for energy careers among youth.
What began as a creative collaboration of co-authors Erin Twamley and Joshua Sneideman, is launching into a series with a third book featuring engineers already being imagined. This STEM Superheroes™ book series introduces kids and caregivers to STEM careers.
"A book allows kids to see and read about the energy superheroes from the offices to places like wind farms. We need kids to imagine themselves in these energy careers." said Erin Twamley.
Twamley's affinity for STEM, coupled with her love of working with children, shines through in her writing. For her previous works, she has received the 2019 Moonbeam Multicultural Non-Fiction Award and the 2020 Best Indie Book Award for Children's Middle Grades. "Everyday Superheroes: Women In Energy" will be her sixth book.
A Kickstarter campaign has been launched online to help support the process of creating the book. ALLY Energy is sourcing the 26 women in energy and invites everyone to participate in the book by nominating women superheroes.
Wise Ink is slated to publish "Everyday Superheroes: Women In Energy" in February 2022. ALLY will celebrate the launch of the book on March 8, 2022, International Women's Day, at its Annual IWD Energy Forum.
ALLY Energy is the leading resource in diverse talent, careers, and culture, creating an inclusive workforce for the energy transition. The global community includes professionals in 120 countries in nearly 1,000 companies across energy in oil and natural gas, utilities, and renewables. Our ALLY Council of 40 organizations connects the energy industry to resources and best practices and is a neutral platform for dialogue and actions to address equity, the environment, and the new economy. For more information, visit: https://allyenergy.com
Erin Twamley is an award winning author, a former Girl Scout and STEMinist. Her passion is working with and writing children's books for upper elementary (3rd-6th). Erin's publications and encounters have led to the recognition of her exemplary leadership in education as demonstrated in the completion of her Superhero training with a Masters of Education (M.Ed.). Prior to being an author she was responsible for the education and workforce development portfolio at the U.S. Department of Energy (2012-2016). Erin loves to travel (pre-COVID) and has lived on three continents. She currently resides in Huntsville, AL where you will find her writing the STEM Superheroes™ series and a picture book featuring Unicorns.