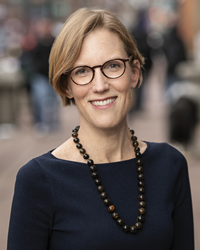 "Allyson is an outstanding leader in many different realms championing for the transformational impact of landscape architecture on the community," said Becky Zimmermann, president of Design Workshop."
DENVER (PRWEB) August 18, 2020
Design Workshop, an international landscape architecture, planning and urban design firm, is pleased to announce that Allyson Mendenhall, principal and director of Legacy Design, was selected as the winner of the 2020 Denver Business Journal's Outstanding Women in Business Award in the architecture, engineering and construction category. This award recognizes women leaders driving innovation and growth in business and in the community.
"Allyson is an outstanding leader in many different realms championing for the transformational impact of landscape architecture on the community," said Becky Zimmermann, president of Design Workshop." Throughout her career, she has continually demonstrated excellence in her work and we are thrilled she was selected as one of Denver Business Journal's Outstanding Women in Business."
Allyson's focus at Design Workshop has evolved to impact all projects at the firm through its Legacy Design initiative which emphasizes practice-based research and comprehensive sustainable agendas for design projects. A member of the Executive Leadership Team, she leads the firm's quality and project management standards. Allyson has formed strategic partnerships with design faculty at several universities to study the built outcomes of Design Workshop's projects and to serve as faculty in residence bridging practice and academia. This is an unusual role at a design practice, but it is one that she shaped entrepreneurially with fellow executives in an effort to differentiate the firm's delivery of legacy landscapes.
Recognized for her role in the industry, Allyson also holds several distinguished board leadership roles locally and nationally. Following a term as Chair of the Harvard Graduate School of Design Alumni Council that was coincident with her service as an Appointed Director of the Harvard Alumni Association (HAA) Board, Allyson was nominated to the HAA Board Executive Committee as Vice President, University-Wide Affairs, through 2021. She convenes Appointed Directors from all of Harvard's 11 graduate schools.
About Design Workshop
Founded in 1969, Design Workshop is an internationally renowned design firm specializing in landscape architecture, urban planning and strategic services with eight offices in the U.S. and projects spanning the globe. The firm has been recognized with more than 460+ prestigious awards. Design Workshop differentiates its planning and design process through DW Legacy Design®, the integration of art, community, environment and economics in every project. From fragile ecosystems to urban sites in rapidly changing cities, Design Workshop works in challenging environments around the world. For additional information visit http://www.designworkshop.com.