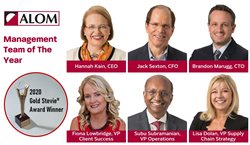 Our management team and supply chain planners took every action to ensure we not only continued to protect our workers while supporting existing clients but that we also were prepared to increase operational capacity to onboard new COVID relief programs. -- ALOM President and CEO Hannah Kain
FREMONT, Calif. (PRWEB) December 10, 2020
ALOM, a global leader in supply chain management, has received two Gold Stevie Awards® at the 17th annual International Stevie Awards® for Women in Business during a virtual awards ceremony on Wednesday, December 9.
ALOM, a WBENC-Certified Women's Business Enterprise (WBE), was named the top winner in each of two categories: Most Exemplary Employer, for ensuring staff safety while supporting COVID-19 medical relief programs; and Management Team of the Year at a Women-Owned Organization with more than 10 employees, for its capacity growth, social responsibility and pandemic response.
"The entire ALOM global team is humbled and proud to be recognized by the Stevie® Awards. From the beginning of the pandemic, we mobilized around three key goals. The first was to do everything possible to keep our employees and workplaces safe. The second was to ensure all client program materials continued to be produced and shipped 100% on time. The third was to contribute to the solution to the pandemic. Thanks to our phenomenal team, we have been able to achieve all three goals," said ALOM President and CEO Hannah Kain.
In winning the Most Exemplary Employer, ALOM was recognized for its rapid and successful response to put in place workforce protective strategies, enabling continuous operations, 100% on-time client order shipping and preventing workplace-contracted COVID-19 staff infections.
Placing lives over profits, ALOM did not lay off or furlough any staff; it fulfilled all clients' orders on-time, and launched new programs to assemble and distribute desperately needed COVID-19 testing kits, medical-grade air filtration equipment and PPE.
"Along with our facilities being FDA registered, ALOM is ISO 13485 certified to produce and distribute medical equipment. This is a responsibility we take very seriously. We clearly understood we were in a position to help save lives. Our management team and supply chain planners took every action to ensure we not only continued to protect our workers while supporting existing clients but that we also were prepared to increase operational capacity to onboard new COVID relief programs," added Kain.
ALOM had the foresight to invest in technology to support a remote workplace several years ago. This enabled the company to seamlessly convert to a hybrid model and deliver essential medical manufacturing and supply chain infrastructure business support. From the beginning of the March shutdown, ALOM sprang into strategic action, with daily executive COVID-19 task force meetings, comprehensive workplace and on-premises staff safety measures, remote work for all non-production staff, and ongoing communications to staff, clients and suppliers.
As Management Team of the Year, ALOM was recognized for its risk mitigation, strategic planning and implementation excellence in growing its domestic inventory, production and supply base capacity which served the company well in its effectiveness to rapidly provide pandemic-driven supply chain solutions. Both the ALOM Fremont, CA, global headquarters and its Indianapolis, IN, facility use advanced technology tools and business intelligence to leverage its supply base network and resources. This "actionable" visibility enables ALOM's buyers and supply chain planners to source materials domestically or near the final market, to shift production to another location when international borders are disrupted or closed and to react nimbly to shifts in consumer demand. At no other time has this agility been more important than during the pandemic.
ALOM senior management team members recognized include Hannah Kain, CEO; Jack Sexton, CFO; Brandon Marugg, CTO; Fiona Lowbridge, VP Client Success; Subu Subramanian, VP Operations, and Lisa Dolan, VP Supply Chain Strategy.
The Stevie Awards for Women in Business honor women executives, entrepreneurs, employees, and the companies they run– worldwide. The Stevie Awards have been hailed as the world's premier business awards.
Gold, Silver, and Bronze Stevie Award winners were determined by the average scores of more than 180 business professionals around the world, working on seven juries.
Maggie Gallagher, president of the Stevie Awards, said, "In a year like no other in our lifetimes, we've produced a cohort of amazing, Stevie-winning women, organizations, and achievements like no other. At all times our winners show themselves to be fearless and indomitable, but their leadership and example are especially valued this year. "
ALOM has been honored to win numerous Stevie awards over the years. In 2017, Hannah Kain was presented with the Gold Award for Woman of the Year in Manufacturing; and the Bronze Female Executive of the Year, Business Services, in the category of 11-2,500 Employees. ALOM was named Silver Company of the Year in Business Services.
In 2015 ALOM won the Silver Growth and Innovation Company of the Year Stevie Award; in 2014 the Global Women in Business Stevie Awards Management Team of The Year; in 2013, the Silver Stevie Award in the category of Company of the Year – Business Services; in 2009, the Gold Stevie Award as Global Sales Team of the Year, and in 2006, the Gold Stevie Award in the Sales Support category.
About the Stevie Awards
Stevie Awards are conferred in eight programs: the Asia-Pacific Stevie Awards, the German Stevie Awards, the Middle East & North Africa Stevie Awards The American Business Awards®, The International Business Awards®, the Stevie Awards for Great Employers, the Stevie Awards for Women in Business, and the the Stevie Awards for Sales & Customer Service. Stevie Awards competitions receive more than 12,000 entries each year from organizations in more than 70 nations. Honoring organizations of all types and sizes and the people behind them, the Stevies recognize outstanding performances in the workplace worldwide. Learn more about the Stevie Awards at http://www.StevieAwards.com.
About ALOM:
ALOM is a global supply chain management services and solutions provider serving as a partner to its Fortune 100 clients in the technology, automotive, government, medical, telecommunications, and utility/energy sectors. Headquartered in Fremont, CA, its expert team of strategists, technology engineers, and supply chain specialists operate globally from 19 locations. ALOM manages the physical supply chain from procurement, inventory management, contract assembly, digital media and print as well as omni-channel fulfillment. ALOM also manages the data supply chain with eCommerce solutions, visibility tools, data management and strong back-end systems, as well as the financial supply chain. ALOM is proud to deliver its clients' products and services impeccably, enrich the end-user experience, and uphold their brand reputations. http://www.alom.com