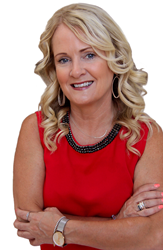 Fiona Lowbridge illustrates both the potential and the power of women in the manufacturing space. For Fiona, challenge is just another word for opportunity; and to meet it she champions solutions and motivates teams to deliver transformative client results. -- President and CEO of ALOM Hannah Kain
FREMONT, Calif. (PRWEB) September 24, 2020
Fiona Lowbridge, Vice President of Client Success at ALOM, a global leader in supply chain management, has received the STEP Ahead Award bestowed by the Manufacturing Institute on women who have demonstrated outstanding industry leadership and mentorship of other women to excel in the manufacturing and supply chain industries.
"Fiona Lowbridge illustrates both the potential and the power of women in the manufacturing space. For Fiona, challenge is just another word for opportunity; and to meet it she champions solutions and motivates teams to deliver transformative client results," said Hannah Kain, President and CEO of ALOM, which manages the supply chain for F100s and breakout innovators across procurement, inventory management, contract assembly, digital media and print as well as eCommerce and omni-channel fulfillment.
The STEP Women's Initiative is the nation's marquee program to close the gender gap in manufacturing. The biggest challenge facing manufacturers continues to be the growing workforce crisis—the shortage of skilled talent to fill open positions. Manufacturers could close the skills gap by 50% simply by bringing 10% more women into the industry.
ALOM, a woman-owned company, is staying ahead of this crisis, where 66% of employees are women. In her executive role at the company, Lowbridge builds resilient and empowered client-facing teams with a skill development focus through peer-to-peer mentoring. Her "can do" spirit forges innovative solutions to client needs and cultivates employee longevity and loyalty, noting a 23% increase in internal staff promotions during the past two years.
"Thanks to the dynamic and inspired leadership of Hannah Kain, ALOM offers abundant opportunities for women and all employees to achieve success at work and in our careers. One area of particular passion for me is supporting and advocating for responsible environmental management and sustainability throughout the supply chain. At ALOM, I know my professional aspirations match my personal ones," Lowbridge said.
Lowbridge has been instrumental in enabling ALOM to scale up essential operations, while protecting staff, for its medical industry clients supporting COVID-19 relief programs such as medical equipment reconfiguration and test kit assembly and distribution. As a respected industry executive, Lowbridge serves as a mentor, advocate, speaker, and panelist for "How Women Lead," a San Francisco Bay Area organization dedicated to promoting women's voices, including the "How Women Lead Alpha Girls" program and "How Women Lead in the Boardroom." As a private citizen she helped organize a grass roots San Francisco beach and ocean cleanup program, now in its third year, focused specifically on plastic waste eradication and public education. At ALOM she is a "4 Ocean" advocate and led a company-wide sustainability initiative which virtually eliminated single-use plastic water bottle use across the company.
"The 2020 STEP Ahead Honorees and Emerging Leader Awards reinforce the exciting opportunities available in manufacturing and help inspire more women to pursue these careers," said Erika Peterman, 2020 STEP Ahead chair and senior vice president of BASF Corporation's Chemical Intermediates North America business. "A natural evolution of the manufacturing workforce is taking place as more women enter into leadership roles, bringing innovative ideas on how we work and increase productivity."
"Companies across the U.S. agree there is a talent shortage in manufacturing. Through the STEP Ahead Awards, we hope to take another step toward closing this gap by highlighting the stories of successful women in manufacturing and giving them a platform to encourage other women to join the industry and be role models for the next generation," said Manufacturing Institute Executive Director Carolyn Lee.
STEP works to foster a 21st-century manufacturing workforce by empowering and inspiring women in the manufacturing industry through recognition, research and leadership, as well as by motivating alumnae to pay it forward by mentoring the next generation. In the program's first five years, STEP Ahead Award winners impacted more than 300,000 individuals—from peers in the industry to school age children.
About the Manufacturing Institute:
The Manufacturing Institute grows and supports the manufacturing industry's skilled workers for the advancement of modern manufacturing. The Manufacturing Institute's diverse initiatives support all American workers, including women, veterans and students, through skills training programs, community building and the advancement of their career in manufacturing. As the workforce development and education partner of the National Association of Manufacturers, The Manufacturing Institute is a trusted adviser to manufacturers, equipping them with resources necessary to solve the industry's toughest challenges. For more information, please visit http://www.themanufacturinginstitute.org.
About ALOM:
ALOM is a global supply chain management services and solutions provider serving as a partner to its Fortune 100 clients in the technology, automotive, government, medical, telecommunications, and utility/energy sectors. Headquartered in Fremont, CA, its expert team of strategists, technology engineers, and supply chain specialists operate globally from 19 locations. ALOM manages the physical supply chain from procurement, inventory management, contract assembly, digital media and print as well as omni-channel fulfillment. ALOM also manages the data supply chain with eCommerce solutions, visibility tools, data management and strong back-end systems, as well as the financial supply chain. ALOM is proud to deliver its clients' products and services impeccably, enrich the end-user experience, and uphold their brand reputations. http://www.alom.com