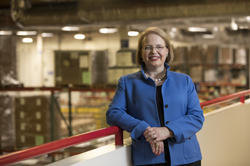 We are enormously proud to contribute our supply chain resources and decades-long domain expertise in the testing market to be part of the solution to the pandemic crisis. -- ALOM President and CEO Hannah Kain
FREMONT, Calif. (PRWEB) March 24, 2021
ALOM, the global supply chain management company, has been selected by the National Association of Manufacturers' (NAM) Manufacturing Leadership Council as a winner of the 2021 Manufacturing Leadership Award in the Supply Chain Leadership category. The award recognizes ALOM for technology and supply chain performance excellence providing rapid workplace protection and support to COVID-19 medical relief programs. ALOM will be formally recognized and presented with the award on May 19, 2021 during the virtual Manufacturing Leadership Awards gala.
"We are enormously proud to contribute our supply chain resources and decades-long domain expertise in the testing market to be part of the solution to the pandemic crisis. This past year is proof positive that collaboration and commitment to solve complex challenges are at the heart of innovation. Our talented staff, suppliers and partners all worked together to seamlessly combine the physical, digital and financial supply chains to develop a data-driven system that increases our ability to identify and rapidly adapt to fast-changing requirements. As a result we were able to scale production five times over projected volumes with 100% on-time order shipping," said Hannah Kain, President and CEO of ALOM.
In particular, ALOM is being recognized for the data-driven supply chain agility that allowed it to rapidly onboard and scale COVID-19 medical relief programs. Not only did ALOM quickly and aggressively implement workplace and staff protective measures to operate safely, but it also utilized its ISO 13485 certification for medical manufacturing and quality control, and its FDA registered facilities, to rapidly onboard high volume COVID-19 test kit production and distribution programs. Drawing upon its network of high quality medical suppliers, ALOM was also able to procure much-needed PPE for its own staff and clients.
Leveraging its strong domain expertise in the production and distribution of medical test kits and with support from its highly collaborative supply base, ALOM was able to configure and start up new production lines in weeks instead of months. Due to the complexities and regulatory requirements for material storage, handling and quality assurance of medical devices, ALOM's highly scalable order management and business intelligence-powered production monitoring systems provided end-to-end serialization and real time visibility through integration with warehouse management and fulfillment systems. These factors, along with operational execution and safe staffing, enabled ALOM to assemble and ship nearly 1 million COVID-19 test kits per week.
Entries for the Manufacturing Leadership Awards were submitted in 11 categories that honor outstanding achievements by individuals and organizations shaping the future of global manufacturing.
"Tested with challenges they never could have imagined, our winners rose to the occasion to keep factories open, sometimes with significant changes to their production and supply chains," said David R. Brousell, Co-Founder of the Manufacturing Leadership Council. "At the same time, they doubled down on digital transformation as they sought greater agility and flexibility in their businesses. These awards honor the innovation and resolve that manufacturers demonstrate at all times, and especially in times of crisis."
The National Association of Manufacturers' Manufacturing Leadership Council is the world's first member-driven, global business leadership network dedicated to senior executives in the manufacturing industry. The Manufacturing Leadership Council's mission is to help senior executives define and shape a better future for themselves, their organizations, and the industry at large by focusing on the intersection of critical business and technology issues that will drive growth today and in the future. The Council offers an extensive portfolio of leadership networking, research, thought leadership content, and professional development products, programs, and services — including the Manufacturing Leadership Community Website, an online global business network with over 7,000 members around the world. https://www.manufacturingleadershipcouncil.com
ALOM is a global supply chain management services and solutions provider serving as a partner to its Fortune 100 clients in the technology, automotive, government, medical, telecommunications, and utility/energy sectors. Headquartered in Fremont, CA, its expert team of strategists, technology engineers, and supply chain specialists operate globally from 19 locations. ALOM manages the physical supply chain from procurement, inventory management, contract assembly, digital media and print as well as omni-channel fulfillment. ALOM also manages the data supply chain with e-commerce solutions, visibility tools, digital delivery tools, data management and strong back-end systems, as well as the financial supply chain. ALOM is proud to deliver its clients' products and services impeccably, enrich the end-user experience, and uphold their brand reputations. http://www.alom.com