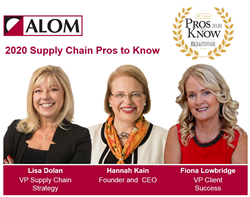 "ALOM is extraordinarily proud that key leaders Lisa Dolan and Fiona Lowbridge have been recognized as SDCE Supply Chain Pros to Know for collaborative partnership with our clients," ALOM President & CEO Hannah Kain
FREMONT, Calif. (PRWEB) March 19, 2020
Three senior women of the ALOM leadership team have been recognized as 2020 Supply Chain Pros to Know by Supply & Demand Chain Executive. They are President and CEO Hannah Kain, Vice President Supply Chain Strategy Lisa Dolan, and Vice President of Client Success Fiona Lowbridge. This is the sixth time that Kain has received the award, the fifth for Dolan, and the first for Lowbridge.
The Pros to Know Awards recognize supply chain professionals for implementing innovative supply chain initiatives that advance industry performance levels and solve strategic challenges of today's business climate. ALOM works with many of the world's most trusted brands, and believes in hiring world-class staff to manage their supply chain. In these uncertain times, having premier domain expertise is an invaluable asset and reflects ALOM's commitment to supply chain excellence.
"ALOM is extraordinarily proud that key leaders Lisa Dolan and Fiona Lowbridge have been recognized as SDCE Supply Chain Pros to Know for collaborative partnership with our clients. Thanks to their expertise and vision, they are implementing new solutions that enable our clients' supply chain to perform flawlessly," Kain said. "Both are committed to maintaining the highest levels of corporate social responsibility throughout our operations. Each lives out these principals in the solutions she offers clients and by actively mentoring other professionals in our industry."
About ALOM's winners:
ALOM President and CEO Hannah Kain has in the last year advanced her leadership role in the industry by spearheading data-driven business intelligence and capacity growth initiatives to enhance supply chain visibility and mitigate the challenges of global trade uncertainty. Kain introduced ALOM BI providing clients with real-time data-driven supply chain performance dashboards that track KPI achievement. She also continued a two-year service expansion strategy culminating with the September 2019 opening of ALOM's new 260,000 square-foot production and fulfillment center in Indianapolis, IN. This milestone followed the 110,000 square-foot company headquarters expansion in Fremont, CA and the opening its EMEA headquarters in Amsterdam, Netherlands in 2018.
Lisa Dolan, VP of Supply Chain Strategy, conceptualizes and implements new solutions for ALOM clients to solve real-world supply chain challenges amidst increasingly complex and fast-changing technology advancements and end-user service expectations. For example, in 2019 Lisa worked closely with an ALOM automotive client to launch a new, never previously attempted program for vehicle owners to self-update navigation system map data without going through the dealer channel. Dolan worked with ALOM and client technologists to engineer a process for car owners to access, purchase and download data. Lisa also planned the launch strategy which kicked-off with a direct mail campaign to over one million car owners.
Fiona Lowbridge, VP of Client Success, is an integral member of the ALOM operations management team responsible for client satisfaction, developing supplier relationships and ensuring that all stakeholder objectives are being achieved. In 2019 ALOM on-boarded a high volume of new client programs. For one new customer with a fast launch window she oversaw assembly process improvements that reduced production time and achieved 100% on-time shipping; leading to new business with 3X order volumes.
"The supply chain profession is ever-changing, with transformative technologies and evolutionary best practices driving greater efficiencies and innovations for companies. At the heart of it all are supply chain professionals. Supply & Demand Chain Executive congratulates the 2020 Pros to Know recipients who are setting the bar for supply chain excellence," says John R. Yuva, editor-in-chief for Supply & Demand Chain Executive.
Supply & Demand Chain Executive received more than 500 entries for the 2020 Pros to Know Awards.
Supply & Demand Chain Executive's website at http://www.sdcexec.com offers the full list of all of the 2020 Pros to Know and Practitioner Pros winners.
About Supply & Demand Chain Executive
Supply & Demand Chain Executive is the executive's user manual for successful supply and demand chain transformation, utilizing hard-hitting analysis, viewpoints and unbiased case studies to steer executives and supply management professionals through the complicated, yet critical, world of supply and demand chain enablement to gain competitive advantage. Visit it on the web at http://www.SDCExec.com.
About ALOM
ALOM is a global supply chain management services and solutions provider serving as a partner to its Fortune 500 customers in the technology, automotive, government, medical, telecommunications, and utility/energy sectors. Headquartered in Fremont, CA, its expert team of strategists, technology engineers, and supply chain specialists operate globally from 19 locations. ALOM supply chain service offerings include procurement, eCommerce, inventory, assembly, digital media duplication, print management, fulfillment, IT and visibility tools, logistics management, and operations. ALOM is proud to deliver its customers' products and services impeccably, enrich the end-user experience, and uphold their brand reputations. http://www.alom.com